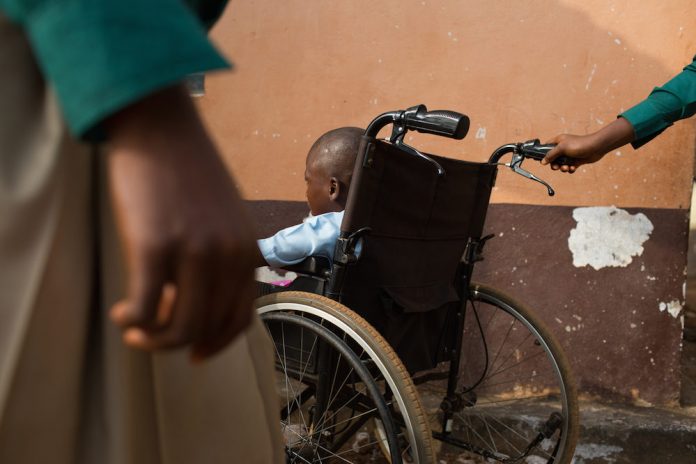 When Kristina Riffle- Semukete moved to Uganda in 2015 to start her teaching job, she discovered that there are over 5 million children enrolled in public elementary schools in Uganda, but children with disabilities are not included.
"Three short months into living in Uganda, I was heartbroken by the lack of special education programs for children with disabilities and decided to look for local partners to do something," Kristina explains.
She then partnered with Moses Semukete to found Obwaagazi Children's Foundation, an organization for children with disabilities in the local communities based in Jinja, Eastern Uganda.
"Children with disabilities are often seen as a curse to families and communities.  These children typically lack parental love, are seen as having no future, and grow up as outcasts in the community and they do not have the same opportunities as typically developing children." Kristina explains.
Kristina passionately says and believes that children and people with disabilities deserve to have the same opportunities as typically developing people. They should have access to education, food, and medical care.
Obwaagazi Children's Foundation, therefore, provides special education, behavioral therapy, physical therapy, occupational therapy, and speech therapy to children with disabilities in Uganda.
"We partner with students, families, and community to create programs for individual educational strengths and needs to facilitate growth for our students.  Education programming may include academic growth, social and emotional growth, and/or communication development." She says.
DAY 4!!! They say a picture is worth a thousand words, but we believe our BEFORE Obwaagazi academy photos and NOW are worth a million words!!!! Look at that progress!!!❤️
A post shared by @astonei on
The foundation gives emotional support and counseling to families of children with disabilities by providing respite care, parent education, community education, and encouragement so that the families can remain in their communities successfully.
As a sustainability plan, Obwagaazi works with families to discover their hidden skills, such as farming, jewelry making, basket weaving, paper beads, weaving mats, and art to which products are sold On Etsy
"We support the families by selling their crafts and providing them with 100% profit for their work, so they can care for their child with a disability." Kristina says.
Todate, the foundation is home to 35 children with disabilities together with their families. They are being supported through provision of respite care, parent education, community education, and encouragement to be stronger in their respective communities where they come from.
"Our students resilience, perseverance, and passion inspires us to be better people and to take a moment to appreciate the beauty of the world around us." She concludes.