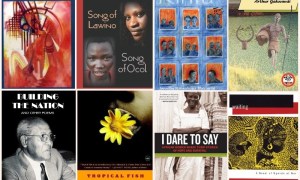 Where are the Ugandan book junkies at?
If you thought Uganda hasn't produced some of the best literature on the African continent, think again. Ugandan writers, both novelists, and poets are silently playing a very influential and decisive role in the promotion of Ugandan writing.
In this first part of our books recommendation series, we list for you some of the best fictional writings to ever come out of Uganda.
The list is by no means conclusive, as there are many beautifully written Ugandan books. You are free to include Ugandan fiction books you have enjoyed in the comments box.
1. Kintu
Kintu is the book every living Ugandan must-read. This is a book that represents the past, present, and future of Uganda and Buganda. In this striving tale of a family and of a nation, Jennifer Nansubuga Makumbi traces the origin of Kintu and connects the dots of his descendants' lives as they pursue to break through their past shared family curse dating back to the 18th century, reconcile this inheritance of tradition and the modern world (present-day) which is their future.
You can buy Kintu from Turn the Page Africa here or at Bookpoint.
2. Song of Lawino and Song of Ocol
Song of Lawino and Song of Ocol is a fulfilling work of art. The poem which turned 50 years this year, is one of the most widely read literary works originating from Uganda written by Okot p'Bitek who has been widely referred to as a philosopher. It addresses the issues facing a liberated Africa and its identity crisis. The poem is a dialogue (story) between Lawino, a woman whose husband, Ocol, throws her out of their home and brings home a more 'Europeanized' woman as a wife. If you are educated and still proud of your African heritage, this book should be your bible.
You can buy Song of Lawino and Song of Ocol from Turn the Page Africa here
3. 30 years of Bananas
This play by Alex Mukulu has been described by writer Jennifer Nansubuga Makumbi as the most influential book to ever have come out of Uganda. Through the experiences of the narrator, a refugee from Rwanda called Kaleekeezi, this play takes a satirical view of what Uganda has celebrated, suffered, and lost over the three decades of her independence.
You can buy 30 years of Bananas from Amazon here
4. Kosiya Kifefe
Sometimes a novel can best describe a country's political history and for Uganda's case, Arthur Gakwandi's book takes the lead. First published in 1997, Gakwandi through Kosiya Kifefe (the main character in the book), traverses the years of the African youth with its dreams, uncertainties, and escapades, while at the same time projecting the images of a changing society that is rapidly disintegrating. The story is full of political intrigues, facades in high places, and lust for power and wealth. It is set in Uganda and Kenya.
You can buy Kosiya Kifefe from Amazon here
5. The Invisible Weevi
Mary Karooro Okurut's fourth and most popular novel first published in 1994 fictionalizes Uganda's record of the past tragic national journey. Set in three decades of three different regimes, the book covers the story of Africa's post-colonial political actors typified by the thinly disguised Presidents, Opolo, Duduma, Polle, and Kazi.
You can buy The Invisible Weevil from Amazon here
6. Tropical Fish: Tales from Entebbe
Doreen Baingana's fiction debut will always remain a classic. Like Kambili Achike in Chimamanda Ngozi Adichie's Purple Hibiscus, Tropical Fish follows and brings out society through the eyes of an innocent Ugandan teenage girl Christine Mugisha and her family after the end of Idi Amin's as she navigates the uncertain terrain of adolescence in Entebbe, Kampala and Los Angeles.
You can buy Tropical Fish from Amazon here
7. Broken voices of the Revolution: An Anthology
This is by far the most popular collection of poems by the Lantern Meet of Poets who had their last recital (Moving On) in October this year. The anthology filled with humor and satire, points out how the once-promising dawn of political hope of the NRM government, has turned into the opposite.
You can buy Broken Voices of The Revolution from Turn the Page Africa here
8. Fate of the Banished
Julius Ocwinyo's Fate of the Banished challenges the maxim of Catholic clerical celibacy. Set in Northern Uganda during the Kony war, Ocwinyo pits the church against the flow of people's lives; a conflict that endlessly oscillates between comfort and discomfort, rage and peace.
You can buy Fate of the Banished from Turn the Page Africa here
9. Upon this Mountain         
Set around Mount Elgon in eastern Uganda, Timothy Wangusa's Upon This Mountain excellently describes African life in the post-colonial era filled with clashes in communities where cultural and religious practices such as circumcision and baptism met. In all parts of the book, Wangusa uses humor to expose the contradictions in the church, and in society as a whole.
10. Abyssinian Chronicles
Moses Isegawa's Abyssinian Chronicles is a remarkable story of Mugezi, a young man who manipulates Idi Amin's reign of terror and experiences firsthand the most crushing aspects of Ugandan society. Mugezi withstands his distant father's oppression and his mother's cruelty in the name of Catholic zeal, endures the ravages of war, poverty, and AIDS, and yet he is able to keep a hopeful and even occasionally amusing outlook on life.
You can buy Abyssinian Chronicles here
11. Building the Nation and other poems
Written with rare wit and humor, the poems in this book by Christopher Henry Muwanga Barlow, deal with a diverse range of themes such as political opportunism, war, nature, and love. Spanning decades of experience and deep reflection by a veteran Ugandan poet, this collection offers fresh and enriching insights into subjects that are of interest and concern to us all.
You can buy Building the Nation from Bookpoint or Turn the Page Africa here.
12. The headline that morning and other poems       
The Headline that Morning is Peter Kagayi's debut poetry collection published by Sooo Many Stories. This collection full of humor and satire gives a very good shot on Uganda's contemporary politics, culture, religion, neo-colonialism, and love. This is a collection every person below the age of 40 should read.
You can buy The Headline that Morning from Bookpoint, Sooo Many Stories here, and Turn the Page Africa here
13. Waiting: A Novel of Uganda's Hidden War
Goretti Kyomuhendo's book is set in the seventies during the last year of Ugandan dictator Idi Amin's brutal, often surreal rule, Waiting evokes the fear and courage of a small close-knit society uncertain of what the edicts of a madman or the marauding of his disintegrating army will bring with each day.