Budongo forest is one of the largest conserved forest areas in Uganda covering an area of 841 square kilometers. Located with Murchison falls national park along the south of the park.
Murchison falls national park is the largest national park in Uganda. Budongo forest reserve is characterized by patched savannah woodlands, moist medium altitude, and big canopy trees, among other fascinating futures. The nearest town to Budongo forest is Masindi town.
Positioned at the boundary of Murchison falls national park and known for chimpanzee tracking and birding. Budongo forest is one of the largest surviving forested areas where 430 square kilometer area is a dense forest and is famous for primate destination, forest nature walk among other things
The Budongo tourism activities are divided into 3 tourism sites Kaniyo, Pabidi, Sonso, and Busingiro forests,
Activities or what to do while in Budongo forest reserve.
1. Chimpanzee Tracking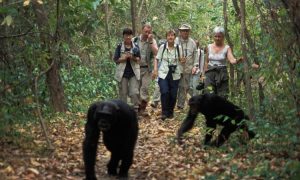 Budongo forests is located with Murchison falls national park and is known as the best destination for a chimpanzee. The forest has about 800 habituated chimpanzees and there are high chances of seeing these primates. Just like in Kibale forest national park
Chimpanzee trekking is walking through dense forests searching for chimpanzees and when found one can spend about one hour with primates in the forest seeing how they enjoy staying in the wild. Murchison falls national park houses other mammals like the big five mammals that include rhinos, buffaloes, elephants, leopards, and lions
Chimpanzee tracking, in Budongo forest reserve, starts with a briefing at 8 am morning, and after the visitors are guided to the forest by armed rangers in search of chimpanzees. For one to do chimpanzee tracking he or she should have a valid chimpanzee trucking permit which can either be got from Uganda wild authority or on the ground while already in Budongo the  forest gate
2. Chimpanzee habituation experience
Chimpanzee habituation is where the visitors spend close to four hours with chimpanzees chimpanzee habituation is different from chimpanzee tracking. The chimpanzee that is used for habituation went through training for close to two years to get familiar with human beings, record their daily behaviors, and photographs. Primatology researchers also use the habituated chimpanzee which is friendly, you can hug them among other things.
 3. Birding
Birding in Budongo forest is one of the interesting activities with about 300 various bird species of which 60 % of them are central African birds. Important to note Budongo forest is an eco-system and of wonder large forests that are still existing in Uganda and it can be accessed while in Murchison falls National Park on a Ugandan tour.
Budongo forest is known as a haven for birding tours on a Uganda safari. Birds to be spotted are both residential and endemic that can make your birding safari in Uganda interesting while on a Uganda tour birds include wagtail egret, African grey crowned crane, guinea fowl, pied crow sparrow, heron vulture, staring great blue turacco,ring-necked dove abbysian bird, pelican, long-crested eagle among other birds.
4. Forest Nature Walk
Budongo forest has well-developed forest trails that will give you a chance to explore the scenery and beauty of tropical rain forests .learn more about the ecosystem, and view tropical big trees like Mahoney among other trees. Guided forest nature walks will help you encounter different species of butterflies forest nature walks are suitable for the average tourist. The tall tree species are 60m tall and 300 years old.
5. Picnic and Photography
Budongo forest features beautiful scenery nice looking and goo for a photograph, the accommodations within Budongo forests for example, for example, Budongo eco-lodge offers the best place for couple picnic, this silence place will offer lovers a chance to enjoy the nature, breathe fresh air from forests, the eco-lodge has a swimming pool, offers the best accommodation, restaurant among other things, you can go with your camera and enjoying photographs.