Lake Mburo national park lies in the western region of Uganda Kiruhura district borders districts like Mbarara, and Isingiro. The park covers an area of 320 square kilometers of low land. Gorilla safaris in Uganda are done in two national parks Bwindi impenetrable national park and Mgahinga national park.
Lake Mburo national park was first gazetted as hunting grounds in 1933 for the local people in the area until it was upgraded as a game reserve in 1963. The local people continued grazing their animals in the game reserve, this land was later upgraded to a national park in 1983.
The park lies at the altitude of 1220m-1820 m above sea level and it covers an area of 320 square kilometers 20% of the park surface is occupied by wetlands. It's among the smallest national parks in the country and the most visited national park in the country because of its hallmark of tourism activities. Some of the tourist activities you wouldn't miss while on a  wildlife safari in Mburo national park are cycling, horseback riding, boat cruising, game drives, and fish spotting at the Rubale fishing community.
History of lake Mburo national park
 Lake Mburo national park originated from the story of two brothers who were living in the savannahs of Karo Karungi that's Kigarama and Mburo, Kigarama had a dream that they were going to receive substantial rains which could cause floods and destroy property when he told the brother Mburo about it, he took it for granted, Kigarama decided to move to high land areas leaving the brother behind later the dream came true and the brother Mburo drowned thus the park is named after him. Avery interesting story you'll listen to while on your safari in the Lake Mburo National Park.
ATTRACTIONS IN LAKE MBURO NATIONAL PARK
Wildlife
Lake Mburo National park is gifted with over 68 species of mammals which are mostly spotted and those which are occasional. The most spotted animal is impalas elands, and zebras, however other animals like buffaloes, Jackie's, hyenas, and road antelopes can also be spotted; occasionally spotted animals are crocodiles hippos, and some bird species while doing boat cruises safaris.
Birding
  Lake Mburo National park is a habitat to over 313 various bird species suitable for birding safari. They can be spotted in the Rubaga forest. Most commonly spotted bird species are African wattle love, rufous napped, yellow-throated long claw among others this will make your birding safari very interesting
Game drives
Being located in the lowlands lake Mburo national park offers the best game drives in Uganda which is coupled with watching the famous animals in the park, mostly spotted animals while on game driving are impalas zebras, buffaloes, leopards, hyenas, and Jackie's. Lake Mburo national park game drive experience will make a difference in your life for all your best safaris in Uganda.
Boat Cruising,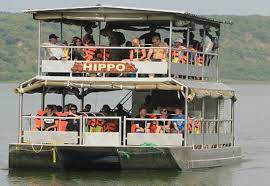 Boat cruising is also an activity one should not miss while on lake Mburo national park safari this activity is done at lake Mburo national park. This activity will give you a fantastic experience of viewing birds like a crested crane, aquatic animals like hippos and crocodiles, flora and fauna
Horseback riding
 Lake Mburo national park is the only park in Uganda that offers horseback driving which makes it unique and interesting. Horseback riding activity helps visitors to encounter and view the park fully. Wildlife safaris in Uganda can be spotted while on a horse riding activity animals like zebras and buffalos' are the most napped. Horse riding activity can be arranged at Mihingo lodge
 Culture exploration for culture enthusiasts.
Visitors interested in cultural tours of Lake Mburo national park have over 10 local community groups living near the park. tourists in Mburo national park are given a chance to interact with the local community whereby they will be able to learn and experience cultural activities like Ankole dances, craft making, storytelling, and preparing there their meals. Cultural community visits can be arranged among the local community tourism projects around the park for example Igongo cultural center the hub of ankole culture, the Rwabarata drum making drum-making community, the Nshara community tourism group Masha community wildlife forum, and Rubale, the fishing community that offers adventurous spot fishing .cultural tourism in Uganda is so beautiful and an awesome encounter one should not miss while on a safari
 Where to stay while in Lake Mburo National park (Accommodations)
  Lake Mburo National park has got the best hotels and lodges among the national parks in Uganda. The lodges like any other are categorized in form of luxury, midrange, and budgeted among the midrange Rwakobo rock lodge, Acadia cottages, and Mantana tented camp.  For those who love to be unique, Lake Mburo National park offers luxury lodges which include Mihingo lodge and Lake Mburo safari lodge.
How to access Lake Mburo National Park
Getting to Lake Mburo national park is easiest since it's the only park near Kampala city; the commonly used mean is road transport that's only four and half hours a distance of 290km.  One can opt to use air transport, take a flight from kanjjasi airfield to Mbarara airstrip which takes about a half an hour and then our guide drivers will pick you from there to the park headquarters which is about one and half hour drive.
Tourists heading to Bwindi impenetrable national park for gorilla tours pass through Lake Mburo national park and can spot zebras along the way. Gorilla tours in East Africa are done in four national parks of volcanoes national park in Rwanda costs 1500$, Bwindi impenetrable national park, and Mgahinga national parks in Uganda at US$700 and Virunga national park at 400$ in Uganda. The prices attached are the cost of a gorilla permit in each country.