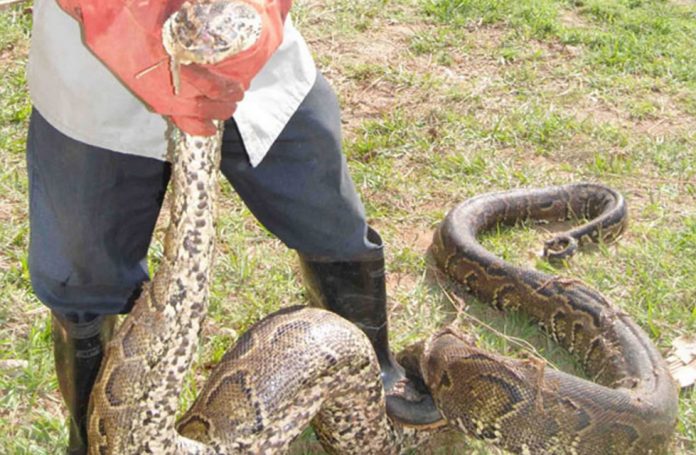 One of the most intriguing signs along Entebbe road is the one directing you to the Snake Park at Kitende.  In a country where snakes are widely feared, who would seriously consider devoting an entire park to them?
The park is located not far beyond Kajjansi, if you're coming from Kampala, and you'll see the sign on your left directing you down a dirt road.  While the signs indicate the park being just a few km off the main road it seems longer as the marram road is rough and you would be justified in wondering whether you are going look for snakes in the bush. However, when you reach the end of the road you will be rewarded by arriving at the purpose-built, conservation enclosure for snakes.
The park is open Monday – Sunday from 8am to 6:30pm but the two staff who greeted us seemed surprised by the arrival of visitors on a Saturday morning. Entrance fee is 3,000 for Ugandans and 15,000 for foreign tourists – there is no foreign resident's rate.
The first impression is that the park is well organised. It is small, but pleasantly arranged with neat stone pathways which wind around banda-style structures with large viewing windows. Each of these contains a different species of snake. The buildings could do with some refurbishing  this doesn't detract from coming face to face with some impressive snakes. Not all of the snake houses were full at the time of our visit, suggesting that they are still in the process of building up their conservation stock. The reptiles themselves are picked up from all over Uganda, and caringly looked after. The guides are extremely knowledgeable, enthusiastic, and will happily talk for hours about the snakes entertaining your children with stories about these man-eating reptiles.
For those of you expecting excitement and danger as you interact with lethally venomous animals, you may be disappointed – the brick snake houses are extremely secure. This will, of course, come as a relief if you are interested in using a visit to overcome a fear of snakes.  The snakes themselves are not natural entertainers, often content to lie, infuriatingly camouflaged on branches and in corners. The most action you're likely to see is at feeding time when they munch on day-old chicks.
While there is children's play area it is aging and there are no places to eat and drink nearby. So, while it might be a nice, informative diversion between Entebbe and Kampala the Snake Park more of a place to visit briefly than to linger. If you do intend to make a day out of it, it could be combined with the Wildlife Education Centre, or a picnic in the Botanical Gardens.
You should give the Snake Park a try if you have exhausted the limited range of kids' activities in Kampala/Entebbe or want to learn about an array of Uganda's snakes from a safe distance.