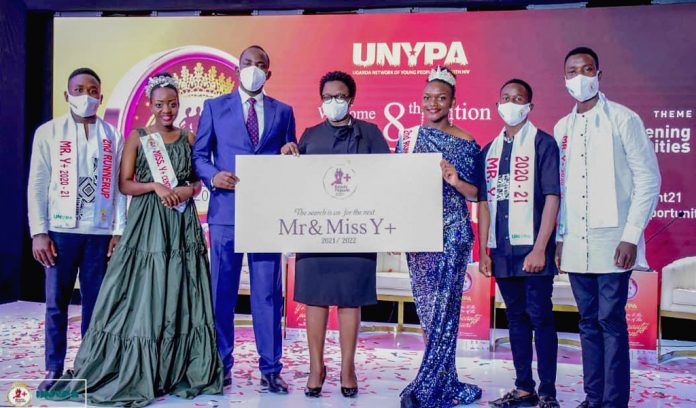 On 25th September, the Uganda Network of Young People Living with HIV/AIDS (UNYPA) launched the 7th edition of the Y+ beauty pageant under the theme "Changing The Narrative."
The Y+ Beauty Pageant is a novel concept that was developed to celebrate beauty with zero stigma and zero discrimination together with having zero new infections and having zero AIDS related deaths. The entertainment calendar has several beauty pageants and, one of which is the Y+ Beauty Pageant that has been on for the last seven years.
The beauty pageant has, over the years, served as a platform to young men and women (16 to 25 years) living with HIV to become voices to the voiceless, pillars of boldness and strength to those still afraid of HIV testing, these young people also share testimonies of assurance that acquiring HIV is not the end of life. Which is not that easy.
"Our mandate is to better the lives of young people living with HIV/AIDS (YPLHIV), and we boldly take it upon ourselves to ensure that we fight stigma through the Y+ Beauty Pageant. Over the years we have managed to position young people in the fight against stigma and in so doing, HIV," said Nicholas Niwagaba, the team leader at UNYPA.
The COVID- 19 virus has worsened stigma towards people living with HIV/AIDS, the current pandemic threatens to reverse the accomplishments that have been made in the fight against HIV/AIDS in Uganda.
As soon as the first case of COVID-19 was identified in Uganda on 19th March 2020, strict lockdown measures were enforced, including a ban on all public and private transport, night curfew, closure of schools, suspension of religious and social gatherings, and closure of non-essential shops and markets.
UNYPA ambassadors were supported with transport as well as bicycles to conduct the door to door home visits for fellow YPLHIV, face to face conversations, SMS for psycho social support to ensure adherence and positive living among YPLHIV.
UNYPA therefore, organizes the 2020 Y+ beauty pageant for YPLHIV in order to re-echo their voices, co- create to build a strong, energetic, creative, and productive generation able to address the multiple dimensions in which stigma and discrimination affect young peoples through raising awareness and empowering Y+ Ambassadors both male & female as champions to challenge HIV related stigma, discrimination & gender based violence within their communities.
The Y-Plus pageant model in Uganda is now a nationally and international recognized and awarded model for a successful fight against HIV related stigma and discrimination, increasing awareness on HIV prevention but of more critical concern still largely remains unaddressed the problem of stigma and discrimination associated with HIV/AIDS and society's attitude to it is still a big concern.
The contest doesn't focus on looks or beauty, but on a young positive person being a role model for other young people with HIV, on being able to advocate for the needs of young people, and to increase acceptance and understanding of young people living with HIV in society.
Through its yearly cycle, the Y+ Beauty Pageant has so far bred over 844 ambassadors who are part of a generation of YPLHIV youth champions advocating for and working towards an HIV stigma-free Uganda. The campaign shall be staggered in three stages: regional auditions; central- Kampala, eastern- Kamuli, western- Kabale and northern- Kwania followed by the boot camp, and a grand finale event on Friday 20th November 2020.
About UNYPA
UNYPA is a youth led and youth serving organization coordinating meaningful engagement of young people living with and affected by HIV and AIDS in Uganda in the National, Regional and Global HIV/AIDS response.  With a membership of over 50,000 young people; UNYPA works to implement National Evidence-driven Advocacy programs that address HIV/AIDS related stigma and discriminations, Gender inequalities and promote Young People's empowerment and universal access to integrated SRHR (SRHR) and HIV/AIDS information and services. UNYPA is driven by the needs of young people living with HIV and implements an evidence informed national programme and advocacy for YPLHIV to lead healthy and productive lives.