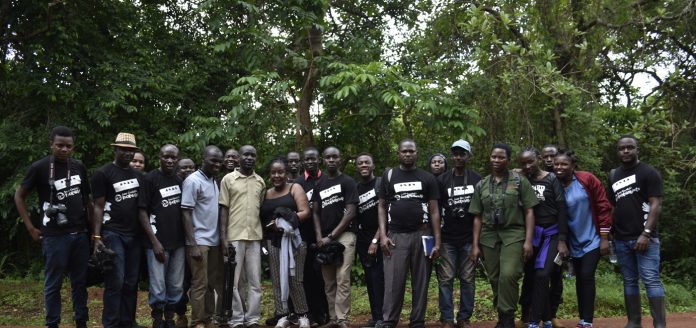 In 1990, four chimpanzees; Sunday, Masiko, Jim, and Megan were sent from Uganda to Moscow to become local zoo residents only to be hijacked and taken to Hungary. The Jane Goodall Institute-UK rescued them saw to their return to Uganda. Back home, they needed expert help in resettlement.
Through the establishment of the Jane Goodall Institute, the chimpanzees were habituated at Isinga Island Sanctuary. Over the years, this organization has worked with the government and other organizations to promote the conservation of forests and animals that therein stay with a keen interest in chimpanzees.
Today, the organization has offices in over 19 countries, 12 of them being in Africa. In Uganda, the organization has spread widely covering districts in the Albertine Rift. It is in these districts that the chimpanzee corridor lies.
JGI's main concern has been to sensitize the communities living around the chimpanzee corridors on how to coexist together. The chimpanzee population had drastically fallen due to man's activities that encroached on their habitat. The leading of all is deforestation. JGI came in and persuaded the locals to take on other economic activities other than relying on the forest for survival.
For example, instead of honey harvesting from the forest, the organization trains the farmers on how beekeeping within their communities for commercial purposes. One of such projects is in the Budongo community in a place called Kapeeka where 40 farmers have formed a cooperative through which they sell honey.
Through the Roots and Shoots program that is mainly run in schools, children are taught of the benefits of conservation. Girls are encouraged and equipped to stay in school. Women in communities are taught how to build energy-saving stoves other than having to rely on firewood from the forests.
Snare trap wires are used as designs on card covers which are sold off to tourists. A number of people have taken to running nursery beds. The trees are sold off to other farmers to plant their own forests.
27 years later, JGI has a story to tell. The story of conservation is no longer about Jane Goodall, it is about the residents of these communities. The story is about the restoration of chimpanzees that were once threatened with extinction. The story today is about men and women interested in planting their own forests on their land.
The children today and those yet to be born are in a better place. A place where their future which was once robbed of them having it returned. They too will get a chance to see chimpanzees. They too will get a chance to see and appreciate the power and beauty of having a forest.
This year, Jane Goodall turns 84. She has not stopped going around the world talking about chimpanzee conservation. She will be in Uganda at a symposium speaking of the same on 8th June 2018.