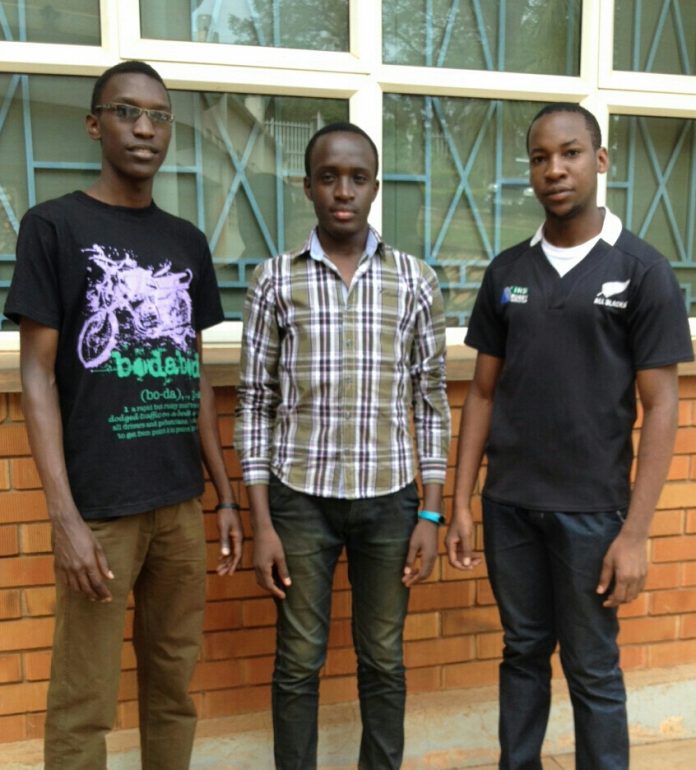 Meet these awesome young men, all fresh graduates of Information Technology at Makerere Univerisity; Moris Atwine 21, Kabwama Alvin Leonard 22, Lwangwa Mwesigwa David 22 that have developed an app that diagnoses and prevents breast cancer. These three friends turned their passion for information technology to create solutions that would change the lives of Africans especially the women that are at risk of suffering deadly cancer. We took of some time to chat with them.
What is the is BreastIT?
breast is a mobile application that aids in the diagnosis and prevention of breast cancer. It carries out a timely diagnosis of anomalies in the breast, like breast cancer. This is done by analyzing the images of the inner breast which are obtained through the use of the glove, which with the help of the ultrasound sensors does imaging of the inner breast.
For a complete process, the mobile phone with a windows operating system does the image analysis by running the images that it has received from the glove through its database and gives results basing on the conclusive analysis it does.
How does it work?
BreastIT is a mobile phone application designed for windows phones that carries out a timely diagnosis of breast cancer using the information relayed to it by the "Hyphen glove" which is the hardware connected to the windows phone.
The glove is made up of piezoelectric crystals that are attached at the top of the palm. These crystals generate ultrasound that scans the inner part of the breast, gets images which are later sent to phone via Bluetooth for diagnosis.
Diagnosis is one of the main features of the app and once a user selects this functionality, he or she is prompted to start. Once one chooses the start option, the hyphen glove is turned on. A user must be wearing the glove by time it is turned on, then one can gently place in front of the breast of the patient, hover around to get a clear picture of the inside.
This picture is generated by the crystals through ultrasound. After a clear picture is obtained, it is saved in phone's database and phone gives results basing on the conclusive analysis it does and user can upload them to the one drive for safer storage or for purposes of sharing the results with the radiologist.
Additionally, BreastIT shows you how to go about checking your breasts with a handy video, plus you will be able to find out how your lifestyle could affect your risk of getting breast cancer. BreastIT also offers information about different radiologists within your area or country, hence making it easy for user to get any medical advice from them.
Here is the video that illustrates more youtu.be/MCeQwSkSXrg
Who is behind this amazing app?
Moris Atwine – He is the Team Lead and Developer!
Kabwama Alvin Leonard – He works as the hardware engineer and designer.
Lwangwa Mwesigwa David – He's the lead researcher of the team.
What problems does it seek to solve?
Women from Sub-Saharan Africa were found to have a low incidence of breast cancer. This was partly explained by a largely protective reproductive history. The average at diagnosis however is approximately 10 years younger than breast cancer patients in western nations. This is why we come up with this project, that reduces the risk of mortality at an early age since the screening and diagnosis can be done early and easily.
We look at reducing the deaths in women and men who die of this cancer in Africa, and worldwide through the use of Breast IT which is of much help, cheap and portable.
Uganda, as our case study, breast cancer can be prevented if and only if there is early diagnosis. This is where BreastIT comes in handy. It's very vital and important for one to know how bad the situation they are in is, and this is only possible if one carries out the early diagnosis. More so, Uganda is about the size of all the New England states (The whole New England states have over
600 member radiologists, a geographic area with a population of 14 million) lumped together and has a population of 35 million.
So how many radiologists are there in Uganda? 42. And 32 of these 42 live in the city of Kampala, whose population is 1.7
Million. The other 10 radiologists in Uganda are "Up-Country", meaning that they work in more rural areas. With that brief exploration of demographics, access to radiology is limited.
What other opportunities do you think this app is likely to create?
Among the Product's marketing strategy is to create health booths in village centers, where people will receive a training and later get employed to help the locals with accessing the services.
There is insufficient information at the cancer registries about people who diagnose with breast cancer annually, the information available shall help cancer registries to get accurate statistics.
Where do you draw your inspiration?
Moris lost a relative to Breast cancer, together with the team thought of a way they could stop family history (one of common causes to breast cancer) from affecting the other family members and that's how BreastIT came up.
What is your greatest achievement so far?
Last Saturday at the Annual Mozilla Festival East Africa, The President of Uganda, His Excellency Yoweri Kaguta Museveni was impressed with the product and was happy to note that he will fully support it through its final development stages, commercialization and scaling.
We were also runners Up of the ICT For Development Award in the just concluded ACIA Awards by Uganda communications Commission where we managed to win USD 5,000.1250 (on the placard was the cash prize) plus 3750 implementation grant.
We were also among the online finals winners of the Microsoft Imagine Cup in the World Citizenship Category, and as only team from Africa and Middle East!
What in your view is the future of technology in Uganda?
Innovators continue to tackle most of these pressing problems meaning the future is clearly bright, but we can't deliver as expected if the Government doesn't come up to fully support us through funding our research as some of these projects need experts to make it to the product stage.
Are there times you have wanted to give up?
We have never really thought about that, we are solving one of the silent killers among women in the world, and too affects men which we easily beat.
What keeps you going during tough times?
I always believe that through innovation, we are saving a life, creating awareness and making the world a better place to live in.
What other projects have you worked on?
We have so far worked on another mobile application code named visual+ which helps the visually impaired to access and be able to manage the most frequently used applications on phones as making phone calls and playing music.
This is done with the use of gestures and a voice commands to help the user interact with a smart phone as any other person clearly looking at the phone.
Any last Words to the reader?
"There is nothing quite like the satisfaction that comes from solving a real challenge that fellow Africans and the whole world in particular face" – Moris Atwine, Founder and Lead BreastIT