Seven years ago, while visiting her family in the town of Gayaza, in central Uganda, Lucia Bakulumpagi-Wamala couldn't help but notice the garbage on the streets. Having grown up in Canada, this was an unfamiliar sight for her. She began to wonder if the trash could be used for something productive.
Who is Lucia Wamala?
I'm a dreamer, a do-er and a believer. I see endless possibilities and love to see people live out their dreams. It's actually what motivates me. People very close to me call me a "stage mom" because I love to push people to amaze themselves. You can normally find me with my 7-year mini-me, sometimes she even sits in on meetings. She has a wonderful aesthetic and advises me on some marketing pieces. I pay her in toys!
Let's talk about Bakulu Power. What does it do?
We invest in the renewable energy sector. We design, implement, own and operate energy infrastructure. We are a young team with bold visionary ideas. Our engineers and researchers are some the brightest in the country. Uganda is a young country; about 77% of its population is under 30. By providing access to and hands-on involvement in the emerging renewable energy industry, we help power our tomorrow.
What Inspired you to start Bakulu Power?
I was staying with one of my cousins and her family in Gayaza when the idea first came to me. As we drove to and from town I would look at the garbage on the street and wonder how to get rid of it. I grew up in Canada so seeing garbage on the streets wasn't normal to me. What I found interesting was that the waste was primarily agricultural. I thought about making fertilizer then quickly scrapped that idea. I started to read everything I could about waste management, informal workers, deforestation and waste to energy. I joined associations around those themes and talked to a lot of people. I gained a theoretical understanding of how to convert waste to energy and wanted to support women. Everything else has really been a series of miracles.
Why renewable energy?
Energy is the precursor to development. In order to industrialize, solve unemployment and move to a middle income nation we need more electricity. My initial spark was waste to energy which falls under biomass. Our equatorial placement makes solar a no-brainer. Agriculture is our biggest industry so we know potential for biogas is huge. The renewable resources are there and there are some great policies to support its development. Africa has contributed the least of any continent to climate change, but unfortunately we will face the greatest risks. I think investing in renewable energy is the responsible thing to do.
What communities does Bakulu Power engage with?
Our office is in Kampala but our team spends most of their time out in the field. You can often find us crossing Lake Victoria to beautiful Buvuma district. We also have projects in Kamwenge, Butambala and Gulu to name a few. It's amazing to travel around country and meet different communities while enjoying the natural environment. One of my favorite communities at the moment is in Mpigi district – Kamengo. We've had the pleasure of working with the Agnes Zabali Boys and Girls Club (please use hyperlink: www.azboysandgirlsclub.ca) a wonderful organization addressing health, education and social needs for 100+ youth in Kamengo. We wired and installed solar at the guest on top of a hill. The view is incredible! Remember, I've dealt with winter for nearly my entire life so sometimes I got lost in the greenery of communities that are new to me.
Bakulu Power's core purpose is to power local communities by providing residential and commercial clients with clean, affordable renewable energy systems tailored to their specific needs. For example what needs?
We do a lot of outreach in agricultural communities to educate on the benefits of solar water pumps. We feel strongly about supporting agribusinesses. In other situations clean cooking fuel is the need so we step away from electrification and design biomass systems. Some larger industry clients are looking to reduce their diesel consumption so we design solar systems with larger battery components. We take all of our clients seriously no matter how big or small. We range from a solar water heater for a family home to mini-grids that electrify hundreds of homes.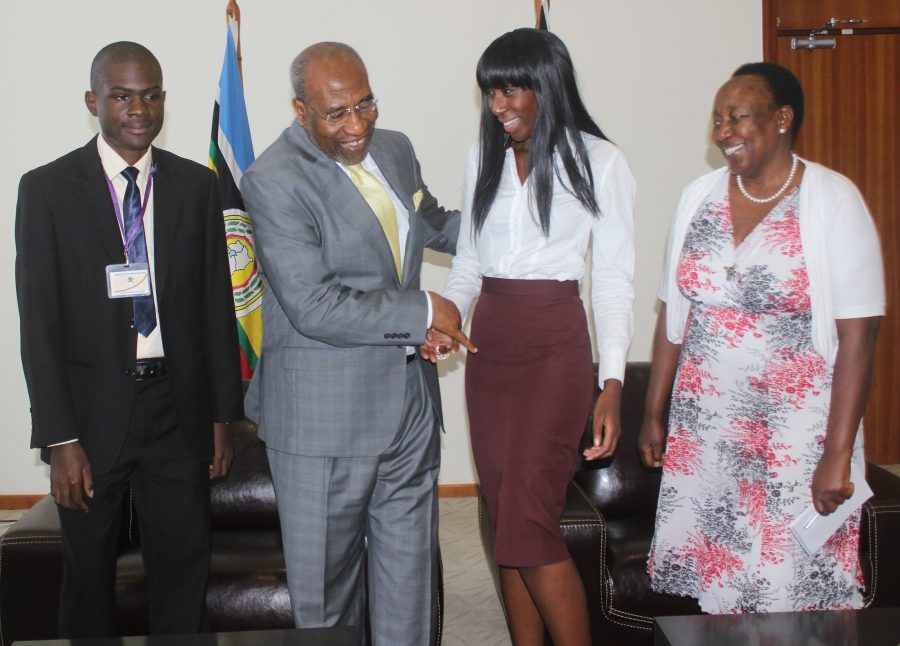 With the Right Honourable Ruhukana Rugunda, my Co-Founder and Chief Technology Officer (CTO) Richard Sseruwagi and Evace Kabahukya (OPM staff).
Bakulu Power's goal is to design and build integrated, highly efficient systems that increase electrification for our end users and reduce utility costs. How exactly do you do this?
We do it one community at a time. One client at a time. We work hard to earn the trust of our project stakeholders. We celebrate our successes, learn from our lessons and continually improve. We've been blessed to work with amazing partners. It's really about people. It takes a lot of people to develop energy infrastructure.
In March this year, Forbes Magazine named you one of the 30 most promising entrepreneurs on the continent, how did you feel?
I felt really emotional. I knew it was a rare sliding door moment that would change my life. I immediately called one of my dearest friends in New York and we literally screamed for 30 minutes. Meanwhile my daughter kept repeating, "let's go and buy it!" I taught her about Forbes last year and we taped a picture of ourselves on the cover of The Forbes 400. She was a little confused because the article isn't in print and more so because her picture isn't online! Though slightly disappointed, she printed the article and took it to her teacher. As a mother it's great to see that your child is proud of you.
Where do you see Bakulu Power 6-10 years from now?
I see offices across the continent. I see a huge research and development department. I see university endowments to support even greater research on the continent. I see empowered communities, improved health services, thriving industry. My goal is simple, to create jobs – internally and externally.
Lucia Bakulumpagi- Wamala is transforming communities through access to renewable energy.
Let's talk about personal inspiration. Which people inspire you in everything you do?
My parents and my siblings are at the top of the list. I'm lucky to be part of an intelligent, educated and ambitious family. As the youngest of the bunch I've had the pleasure of watching my sisters and brother attain their own successes. Because of them, I have the nerve to create. I'm inspired by people who create. It isn't easy (or comfortable) to turn an idea into something tangible. I'm very inspired by Kanye West. I often joke that we should include his discography in the new hire package. I make so many references to his work that if you don't know it I won't make much sense.
What advice would you give to someone who wants to be like you?
Be willing to learn. To learn you have to be willing to be wrong, to be vulnerable and to be embarrassed. You have to continually learn and DO. Thing is, you have to do while you're learning. It's absolutely terrifying. And most of the work is not fun or glamourous. But once you start the process (oh ya, you have to learn to love the process because there is no final destination) you will amaze yourself. I would also say to be kind, curious and open. Business is really just a series of relationships and you know never know who you are talking to.