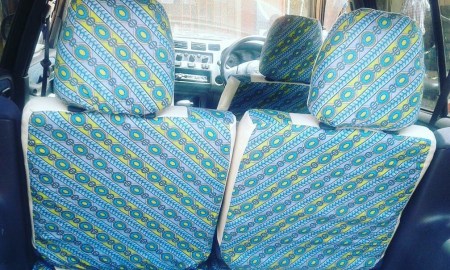 African print is the new thing! Jumpers, shirts, shoes, trousers name it, have already transformed the way we view fashion in Uganda or Africa in general today. One design firm is taking this a notch higher by pimping rides in African print. This Is Uganda caught up with Gilbert, the Managing Partner at 1620 Footsteps and we bring you the interview.
What is 1620 footsteps?
1620 footsteps is an up-and-coming design firm that makes all its products unique through incorporating African material or fabric in all its designs. There's not so much to write home about originally African products apart from artifacts so we are seeking to "Africanize" more items that are not originally African by giving them an African face. What better way to do that than using African material in such items. At the moment we are doing this with our flagship products, car accessories like car seat cover, headrest covers, and steering wheel covers; for every car accessory we make, we incorporate African fabric in the design.
Any inspiration behind starting 1620?
A lot of beautiful and creative stuff has been made out of African fabric/Kitengi and Ugandans had somehow managed to exploit and make the most of it but as young entrepreneurs we are hungry to look for the untouched and unexplored. When we discovered what hasn't been done by anyone else, we got to work. And the rest is history.
1620 Footsteps is changing the interior of cars to something never seen before. (Photo by 1620 Footsteps)
How long has 1620 been in existence?
It's been 6 months now. We started on 10th June 2016 but took a while to get our products onto the market. We started selling in the second week of October 2016. The past months had been consumed by design and redesign. We had lots of samples that we redesigned before coming up with our final products which we felt was complete and suitable for market consumption and also give value to our business In June, this 2017 we make one year.
One of the interior of a car that was re-desgined by 1620 Footsteps (Photo by 1620 Footsteps)
Special mention of the team members at 1620 footsteps?
We are a very small team for now but we give great thanks to Leticia Nambalirwa (la leti Fashions), Hussein our handy man and the managing partners, Gilbert Opondo and Christine Namubiru.
Where do you see 1620 footsteps six years from now?
We hope to have grown our product list, our market share and 1620 footsteps, the brand. We have a plan off which we have only developed one concept. We shall soon be developing other concepts off that plan and launching. If we carry on like this, we do not think the Ugandan market alone will be big enough for us. In six years we hope to be a publicly recognized brand not just locally but globally.
1620 Footsteps is changing the interior of cars to something never seen before. (Photo by 1620 Footsteps)
How often do you get offers by people to dress up their cars by 1620 footsteps?
At the moment the orders are spread across. Some are bulk orders whilst others are for single pieces. Our orders are relatively frequent although we get daily inquiries about our products.
If someone wants to have an African touch by 1620, where do you they find you?
We can be reached on +256 755 510 547/ +256 700 358 517 or via email on 1620footsteps@gmail.com for further inquiries and orders. Alternatively, one may reach us through our Facebook page, 1620 footsteps, Twitter @1620footsteps, and Instagram @1620footsteps.
Like this story? Or have something to share? Write to us: info@thisisuganda.org, or connect with us on Facebook and Twitter.