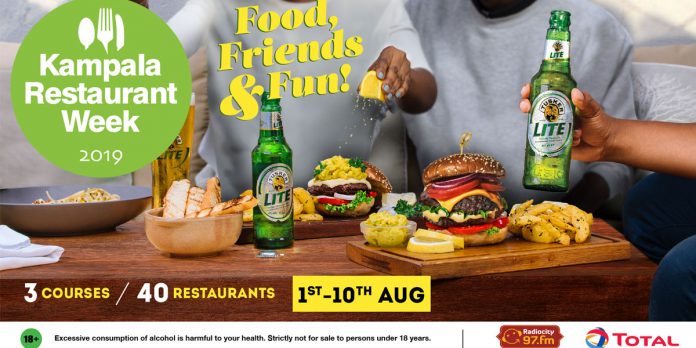 Ugandans love food- not necessarily the rolex. They love their local food and most are proud to be called foodies. This might just be one of the reasons as to why the Kampala Restaurant week glided back this year [June 1-11]. With it came the showcasing of a wide variety of Ugandan foods, loved and enjoyed by many Ugandans.
2
Photo: The Pearl Guide
This [Kampala Restaurant Week] is an initiative by the Pearl Guide Uganda, a household magazine to boost the food and service industry through giving back in the form of subsidized meals and special offers from selected restaurants in the country. A chance for everyone to have a meal at their favourite restaurant at a much fair and quite affordable price -it's that interesting.
It's not just about food, but also bringing together friends and family- even the lovers enjoy this period being filling it with cozy binding but also enjoyable dinners. It's about the whole aspect of getting together, for a good meal- smiles.
Photo: Tweny Benjy
Photo: Tweny Benjy
With a fusion of rich imports from Jamaica and Mexico, our very own matooke and ground nut stew took center stage in this dish that was coined the Oxtail-Matooke [Fuse box] at Piato restaurant in Kampala, one of the 30 participating restaurants. The meal is a combination of Carribean Oxtail-Matooke fusion served with vegetable stuffed tortilla.
The awesome fusion meal. Photo: Tweny Benjy
The awesome fusion meal.
Photo: Tweny Benjy
"With all the exciting cuisine going around during Kampala Restaurant Week, sometimes all you want is a little matooke, or kalo… gonja perhaps? Those hallmark's that remind you of mama's cooking. We teamed up with 6 restaurants to bring you the Tusker Lite Fuse Box, a celebration of Uganda Fusion Cuisine. Each of these restaurants showcased a Specialty Ugandan + Exotic Fusion Mash Up Dish at UGX 30,000 and each order came with the easy drinking Tusker Lite." Shared Philip Kalibwani of Pearl Guide [Business Development]
The Fuse Box Photo:Tweny Benjy
The Fuse Box
Photo:Tweny Benjy
Other restaurants that partcipated in the Kampala Restaurant week include; Endiro Coffee, Design Agenda, Cafe Javas, The Bistro, Tamarai, Cafe Ceylon, Cafe Mamba, Emin Pasha Hotel, Dolphin Suites, Jinja Sailing club, Pineapple Bay Resort, The Lawns restaurant, Yujo Japanese restaurant, Protea Hotel, Munyonyo Commonwealth Resort, Holy Crepe, Java House, Cafe Javas, Kabira Country Club, Pizza Hut, and Pizza Connection, among others.
The Fuse Box Photo: Tweny Benjy
The Fuse Box
Photo: Tweny Benjy
"Restaurant week has been a proven tradition amongst many major cities around the World including Cape Town, London, New York and Tokyo to name a few."- Philip Kalibwani.
"It was time for Kampala to continue the foodie tradition with a Second Edition! We teamed up with chefs from forty of the finest restaurants in the city to create one-of-a-kind Three (3) Course Menus to tickle your taste buds. This year, we also took the tradition to Jinja with the participation of Jinja Sailing Club, Bulago Island with the participation of Pineapple Bay and Entebbe with the participation of Cafe Javas Entebbe." Philip Kalibwani of Pearl Guide added.
The Fuse Box Photo: Tweny Benjy
The Fuse Box
Photo: Tweny Benjy
This is the second year Kampala Restaurant week has taken over the city. The lovers of fine dining are excitedly looking forward to what is in stock for the next year. This tradition has had a positive impact on the people of Uganda as they seek restaurants out to take advantage of their irresistible menus and offers. We are all now waiting for the third edition of this epic tradition.