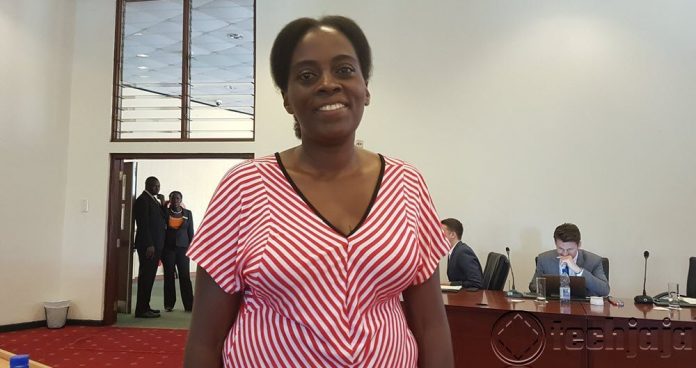 The long wait is over, Uber is now in Kampala. Today UberX officially launched its ride-sharing service in the city of Kampala during a press briefing at the Kampala Serena Hotel. Fortunately, there is a lady driver part of the Uber team now.
Fiona Kiberu Photo: Tech Jaja
Fiona Kiberu
Photo: Tech Jaja
Fiona Kiberu is a simple and down-to-earth lady who has been in the taxi business for almost eight years. She stays in Kawempe and works at Lugogo Shopping mall. Those that have used a cab from Lugogo shopping mall before knowing her quite well, he generosity, kindness, and politeness. She drives a Noah.
Salvador Idringi celebrating the launch of Uber. Fiona Kiberu in her driver's seat. Photo: Twitter
Salvador Idringi celebrating the launch of Uber. Fiona Kiberu in her driver's seat.
Photo: Twitter
In an interview by Tech Jaja, Fiona Kiberu declared that she will drive Uber for life, she also added a smile to her new recruitment into Uber.
Uber is a service that enables a person/client to get a ride at the tap of a button, it eliminates flagging hands so as to stop a taxi or enter an unfamiliar car which is totally insecure. It's also the most convenient way to get a safe, reliable, and affordable ride to work, to a party, or back to home. The Uber app detects your location, tells you in advance about your driver, and you can choose to pay with a credit card or cash so it is easy and safer for both riders/clients and drivers.
"Uganda's famous "Happy City" is well-known for several attractions – its bustling streets, exotic nightlife and dynamic skyline. These are just a few of the many reasons why Uber loves Kampala, and we're excited to announce that YOU can now request a ride at the tap of a button."- Uber
With the launch of Uber in Uganda, one can only hope for the best in the transport sector and system which hasn't been performing to expected standards in the past. To celebrate their launching, Uber is giving all riders the opportunity to enjoy FOUR days of free rides in Kampala.