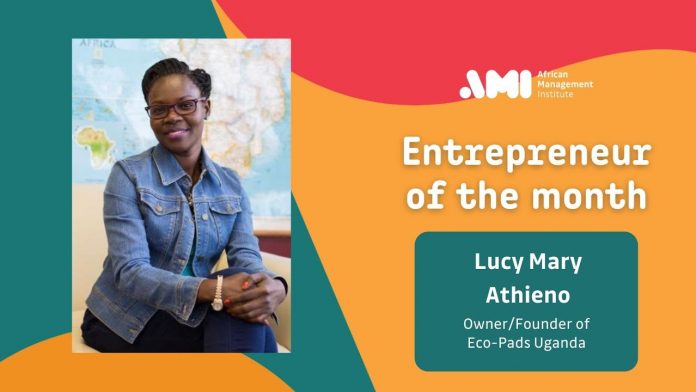 She stood up in class, her classmates laughed at her. The boys said that she had slaughtered a chicken. They made fun of her for a long time. She couldn't afford sanitary towels, the anxiety of the monthly period coupled with the embarrassment she had faced which would have destroyed her self-esteem as a young girl instead stirred her resolve.
Meet Athieno Mary Lucinda a YALI fellow, the founder of Eco-Pads a social enterprise dedicated to the production and distribution of reusable pads and environmentally friendly to girls in Uganda.
"That experience kept me wondering what I would ever do to save a girl the embarrassment I had gone through. While at university, I went to volunteer with Kadama Widows Association where I am the Executive Director now and as I interacted with the girls, they had similar challenges. I then started saving part of my stipend to make the pads and that was my aha moment." Lucinda says.
The sanitary pads are distributed to young women in rural Uganda. These Eco-pads are Menstrual Kits that are made from very high performance fabric and provide comfort and supper protection for a period up to 12 months.
"The Eco-pads project started in 2008 as a local thing trying to just help girls in the community. In 2014 we realized we can improve on quality and start selling for sustainability and we have been growing daily from just the local community to many parts of the country with over 20 full time and 35 part time employees."
"I am most proud of last year when we reached 50,000 girls with Eco-Pads, the feedback from the girls attending school daily is heart-filling. The involvement of parents and the whole community in the cause is great. We have reached over 75,000 community members on Menstruation being an issue and how they support. Mentored over 10,000 girls" Lucinda says.
There are challenges that are still to be overcome. Being a local product, Lucinda's biggest challenge has been in marketing and getting the product to be known, convincing the clients that it is a good product since it is new. The very first money that they used was grant money that they used to buy equipment and set up and buy some few materials.
Despite the challenges, she has mentors that encourage her when things are going down hill. my "Atuki Turner the ED of Mifumi, Tracey the founder of glad rags U.S, Mary Mosinghi the ED of KwaAfrica. They remaind me that I need to remain a learner and humble in whatever I do."
At the heart of this project is the desire by Eco pads that every girl child remains in school. Eco-pads give affordable sanitary pads for girls, because many miss out of school during their menstruation. They are competing against appalling statistics 80% of Girls in Uganda are absent from school during their periods. 70% of female students reported difficulty of attending class attentively due to menstrual-related problems. 90% of the poor women and girls do not use (off-the-shelf) sanitary pads, but instead, improvise with unsanitary materials. Prior to their first period only 51% of girls had knowledge of menstruation and its management
"We educate girls on MHM, conduct mentorship sessions and educate the parents and teachers on the need
to support girl child. We shall continue to do something regardless of the tide. One sanitary pad at a time." Lucinda says