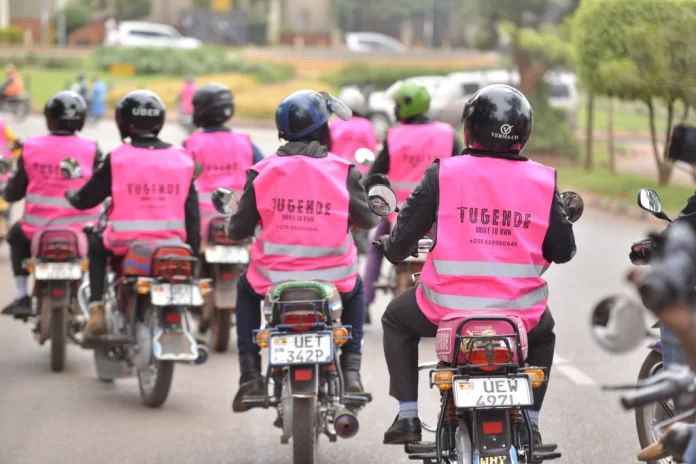 Anyone who owns a car in Uganda will tell you that finding a good mechanic that is trust worthy and won't steal your car parts when you leave your car overnight is a relief. Makanika Dot Com is looking to transform the way motorists access service providers especially garages, as well the way providers get clients .
Makanika dot com collected data on worthy garages around two of the country's cities (Kampala and Entebbe) to build the mobile application. The firm has built a data base of garages that motorists can access, and also buy car accessories like alarms, radios, lights. when in need through an app.
"When a motorist is stranded, they go into the app and send a repair request to the nearest garage. The garage, which has a dedicated application is notified about a stranded customer, they get in touch, solve their problem and get paid." Michael Richard Katagaya the co- founder says.
Makanika which is also means mechanic is not only offering fast, reliable, convenient and secure way of sourcing car repair and accessories, but is also offering mechanics an opportunity to make more income, and transforming garages into stronger businesses through training and access to opportunities. The website and mobile app is now live.
Although the idea was conceived in 2012 with fruitless attempts to take off, it only became formal, with the incorporation of the company, in 2015. Since inception, they have grown their network of garages from zero to about 200 (several hundreds of mechanics), spread across Kampala, Entebbe, and a pilot site in Mbale.
"We secured support from a tech hub – Hive Colab, we have worked with mentors to refine our idea." Michael said.
What drives their passion is that they believe in an economy with high unemployment, growing initiatives that are looking to transform the informal (Small and Medium Enterprises – SMEs) and service sector work, is very critical.
Uganda's Youth Unemployment Rate is 80%. Many young people are employed in Small and Medium Enterprises (SMEs) including garages. Most of these businesses are quite informal and find it hard to benefit from the growing potential of technology. For example most garages have their mechanics sit and wait for clients (motorists) to come to them. At the same time, their clients are looking for a nearest, good garage. This is a disconnect that could be solved by technology so that mechanics get more jobs to do and motorists save time.
In the recent years, Uganda has experienced a rapid growth in the automobile market, with automobile population more than doubling in the last decade. Between 2012 and 2013 there was a 38.7 percent increase in newly registered vehicles from 96,598 in 2012 to 133,945 in 2013.
This boom comes with an increasing demand for automobile services including repairs, services, car enhancements like sound and security. It is arguably true that the number of such providers has tremendously grown, finding a reliable one maybe hard as people keep complaining about dealing with crooks. Also, in case of emergency like a car breaking down on a long road trip or in the middle of the night, with no access to one's regular provider e.g. mechanic, they may have no starting point.
It is such challenges that we intend to solve. These services will be hinged on the increased number of telecom and internet users. The Uganda Communications Commission (UCC) indicates that last year, Uganda's telecom subscribers hit 19,506,5502 in 2014, and that the total number of internet subscribers increased by 33.6 percent from 2,692,705 in 2012 to 3,625,559 in 2013. Obviously, these figures have tremendously increased and this will provide an opportunity for this venture.
Makanika Dot Com has changed the lives of the clients that use this service.
"During the pilot phase for the mobile application we had between 50 and 70 active users. These are people to whom we have delivered reliable automobile garages, especially in emergencies. We have about 200 garages (over 2000 mechanics on our network) – although not all of them are on our mobile application.
These numbers both of garages and users are growing very fast as we get reviews and intensify marketing. And so far. Feedback from both clients and the mechanics we work with; we are making a difference. For example, a good number of garages are assured of work, almost on daily basis – this builds trust in their work as a source of employment." Katagaya Said
As of now, they have not encountered any major challenges in their operations, save for the need for funding to scale fast, now that our concept is proved, appreciated by both clients and garages/mechanics.
"In five years, we will have broken even and extended our services across East Africa." Michael Katagaya Says.