With the mission to make sure that young people and the youth can archive education and a bright future through growing their talents and enhancing African cultural values through entertainment by providing a good blend of African Music genres with contemporary spice, Martin Male started a program that has seen many children get helped out of poverty in Uganda.
Baraka Performers brings together youth, and enhances/taps into their talent of dancing thus enabling their benefit through their skill.
Baraka Performers' versatile artists celebrate human happiness through a seemingly endless repertoire of dances and songs that they ebulliently execute using different parts of the body, such as: stamping dances, hip dances, arm dances and abdominal dances.
Beyond just reaching out to children, they also aim at promoting the Tourism industry through the promotion of culture both nationally and internationally.
The group hosts both domestic and foreign tourists at their cultural center in Gayaza to enjoy the various dances, songs and plays originating from the various regions in Uganda and from the rest of Africa.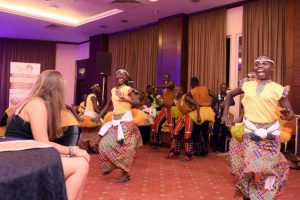 Through the use of mostly local musical instruments like the adungu, engalabi, empunyi, embuutu, endigidi, amakondere, among others to entertain crowds at events.
Some of the cultural dances that the Performers indulge in include; Bakisimba, Amagunjju, Runyege, Ntogoro, Kitagururo, Kizino, Tamana, Buga, Illongo, Adungu, Otwenye, Gaze, Kadodi, to mention but a few.
From the events such as weddings, and cultural shows that these young people perform at, leaving crowds in awe, they also get revenue that has helped them out of poverty and in school.
The Vision of Baraka Performers is to become the Premium entertainment group in Africa.
To support these young people even more, book them for your events and you won't be disappointed. Send them a message via Facebook.