Stella Airoldi first met Susan laker in 2009 when she first came to Uganda while doing research about post war victims and witnesses.
"I visited her house, where she was living with her 3 teenage kids. Back then I was 24 years old and Susan 26 years, so just two years older than me. But her kids were already 9,10,13 years old." Stella says.
Because Susan got pregnant for the first time when she was only 13, her kids didn't go to school and neither did she. She got pregnant from a soldier while living in a military barracks which by then, was the only safe place for her to go to escape the LRA in Northern Uganda.
"Getting pregnant when I was 13 years old was so traumatising. I lost my childhood life. I wasn't able to go to school which made me lost my hope for living a good future. I hated my parents for forcing me in to early marriage, my growth was totally destroyed and I segregated myself from people because I felt inferior."- Susan notes.
When Susan was 15 years old, she conceived again but got a miscarriage when she received a message notifying her that two uncles, 3 nieces, a brother and sister had been killed by the Lord's Resistance Army rebels.
Suzan with some of the children being looked after by 22Stars
"I was shocked and lost the pregnancy. After a few months, I conceived again and gave birth to a second child at the age of 16 and when the baby was 6 months, the father died and since I had nowhere to get financial help from, I was forced to remarry another soldier from the barracks to get protection and when I was 19 I gave birth to the third child." Susan says
In 2007, her husband was deployed to Somalia on a peacekeeping and never returned, a thing that left Susan very frustrated. It was shortly after that, that she found out that she was HIV positive, had cancer and Tuberculosis (TB). It was not until an organization called Reach Out Mbuya came to her rescue that she was able to start cancer chemotherapy and TB drugs for six months and now am on ARVs treatment for life.
She then fled with all her children to Kampala which were (and still remain) her main reason and motivation to keep going in life. Her kids were tested negative and she wanted them to go to school. She started making jewellery, which initially her kids would sell in the streets.
"It was then my pastor introduced me to Stella. I was making paper beads jewellery and Stella decided to buy me jewellery on a yearly basis. At the end of 2012 when she came back to Uganda to see how I was doing, she was surprised to learn that I was going back to school by myself and I had improved." Susan notes.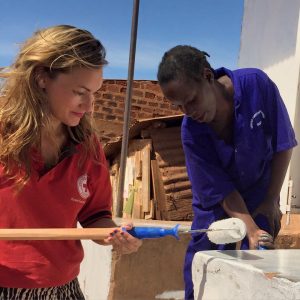 Suzan & Stella during the painting of the 22Stars office
Susan has been able to buy land and built a bigger house for her family. She completed high school and did a couple of short courses to improve her skills and knowledge for example a certificate in Clearing, Forwarding and Shipping management, Certificate in Electronics, Certificate in Counseling People Living with HIV/AIDS.
"At first, all my friends and family thought I was completely crazy starting with women who cannot read and write and I cannot even communicate with. So true, things didn't go that smooth the first 2 years. So end of 2014 I came back to Kampala and since 2015 I am here myself 2 to 3 times a year and things improved a lot."- Stella says.
Susan is now managing the whole team of the 22STARS jewellery that comprises of over 20 women and supporting 150 children in slums. Thanks to recurring monthly donations, she (Susan) has been cooking in Acholi Quarter every Sunday since October 2016 ( so more than 14 months!) with the help of other 22STARS group members. The group started back then to cook for 50 kids and that is now 150. They get a hot meal with either fish or meat.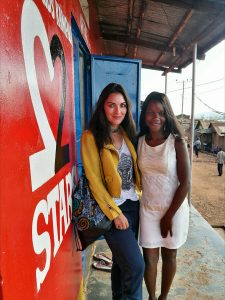 Suzan and Stella posing at the newly repainted 22Stars office
22STARS is a team of artisans made up by strong women living in the slums of Kampala and Jinja in Uganda making jewellery for a living. The platform is giving women in slum areas like Susan to sell their jewellery on the international market and earn a living, and in addition war running small social programs on the ground.
"Our choice for environmentally friendly products is a very conscious one. By using 100% recycled paper, the jewellery you wear does not only look good, but it also feels good. Our beads are hand made from paper and varnished with natural products. This makes each peace uniquely different, lightweight and waterproof." Stella says.
22STARS also uses education and entrepreneurship to empower children and their families to rise above poverty by creating long-term sponsorships for children in Uganda, and also run several community development initiatives including a nutrition program, basic needs program, small business training and micro loans program and our holistic educational program with extra-curricular activities.
"Without the help of Susan this all would not have been possible. As she knows how it feels like to sit in the stone quarry with your kids, crashing stones all day, not being able to send them to school, she is pushing very hard to help all the families over there to send their kids to school. She is so amazing how she is managing everything. Susan is a true superstar and really the strongest woman I ever met." Stella concludes.
Like this story or have something to share? Email us at info@thisisuganda.org or connect with us on Facebook and Twitter.