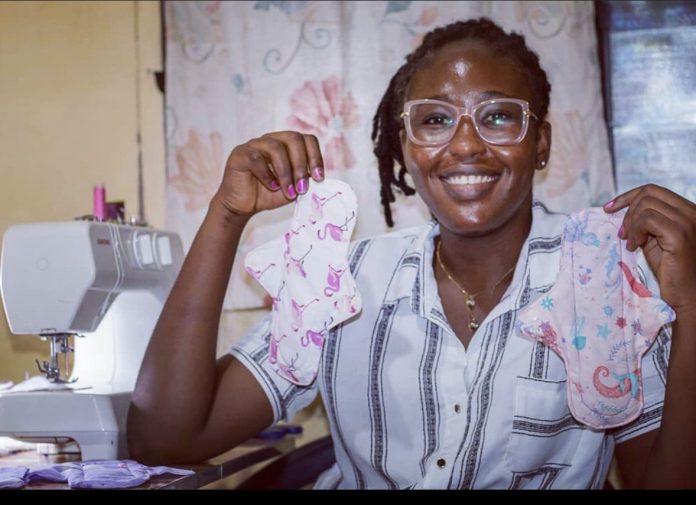 It all started when Lydia Asiimwe Sabiiti the Founder of EcoSmart Pads, met a 16-year-old girl Kyomuhendo who had traveled a long way, hailing from her village in Rwanyamahenbe, the Western part of Uganda.
Kyomuhendo was being escorted by her mother in search for better health care at Mbarara Regional referral Hospital. She had developed wounds in her vagina that had first presented with itching soon after her menstruation period.
"As I approached her, I could tell she was in so much pain. Her eyes were swollen from crying and her mother seemed weary from managing her daughter's pain. They couldn't find their way through the hospital so I offered to walk with them to the department of Obstetrics." Lydia explains.
As the two walked and talked, Lydia learned that due to failure to afford sanitary pads, Kyomuhendo had been using 3 pieces of the same old cloth over the last 2 years of managing her menstrual flow. She learnt that the same cloth was shared among 3 of her sisters and 2 other cousins who all lived with them.
Her mother mentioned with distress that the cloth had not only changed color over time but had also developed a very bad odor making it increasingly uncomfortable to wear at school or any other public place.
"I silently concluded that this form of menstrual management was the source of Kyomuhendo's pain and I was determined to do something about it. I facilitated the CAMTech Uganda internship programme and I got my chance to tell this story to ateam of students who had enrolled for the programme." Lydia explains.
When Lydia finally told her story, three other students on the programme were inspired to act and they joined her and together, they formed a team. The team grew to be known as the EcoSmart Pads team and they have figured out a way to upcycle sugarcane fiber into a material that they are now using to make low cost and eco friendly sanitary pads that people like Kyomuhendo will be able to afford. Their vision- To ensure equality, vibrancy and dignity in menstrual management among girls and women in Uganda.
Lydia conducting an awareness session
The Eco-Smart Pads idea
The Eco Smart Pads are sanitary pads made out of sugarcane recycled residues for girls and women of menstrual going age from low-income backgrounds.
"Sugarcane residues at sugar manufacturing factories are the raw materials to our product and are obtained at an affordable price," Lydia says. She is convinced that this idea will work because of the low costs of production that will significantly lower the price of this product.
The team first conducted an experiment in the Microbiology lab at Mbarara University of Science and Technology to determine which one of the two between Maize and Sugarcane had residues with a high absorbance rate. Sugar cane emerged with a higher absorbance percentage and was selected as the plant to be considered as a raw material for this innovation.
"We did conduct a needs assessment, interacted with our end-users and generated findings from them, informing our price estimates and product packaging quantities," Lydia explains.
Right now, the EcoSmart pads team is sending on the market a 12 piece pack (because the end-users said on average each would be conformable to use 12 pieces in a single menstruation period).
"We are selling each pack at UGX 1500 cutting down current costs by 50%, 90% of the end-users we interacted with said they could only afford to pay between ugx 1000 – 1500. We are not looking to generate much revenue from sales because we are selling to low income earners. We are looking to work with philanthropists to cause an impact in our local community. As for the sustainability of our company, we are looking at other income generating options." Lydia elaborates.
These pads are also disposable. The team figured you don't give a reusable pad to uneducated- rural based -low income earners and expect them to maintain it at its required high standard hygiene levels. They will maintain it the same way they maintain the old cloth that they use – washing it at night and keeping it wet under their beddings. It will cause infections and the problem will not have been solved. The EcoSmart sanitary pad is disposable and our packaged quantities allow them to change the used pad at least 3 times a day which is more healthy.
The primary beneficiaries of this product are school going girls from low income backgrounds whose pursue of education has been affected by this challenge.
Other non school going women from low income backgrounds such as women in prison, refugee camps, public hospitals, are also primary beneficiaries of this product. Generally, female Ugandans from high income earning backgrounds will too benefit from the low cost of this product as they will be able to make some saving.
In June 2017, the EcoSmart Pad team won a $10,000 grant from UNFPA's UpAccelerate program to move the idea from inception to prototype development.
The issue of menstruation
Menstruation is one thing which almost every woman has to deal with. Every month.
Many Ugandan women still use scrap cloth from old saris and towels, the traditional method for managing menstruation for thousands of years.
On average, a single woman generates 125kg of sanitary waste during her menstruating years when she uses disposable sanitary products.
A UNESCO report estimates that one in ten girls in Sub-Saharan Africa misses school during their menstrual cycle. By some estimates, this equals as much as twenty percent of a given school year.
Many girls drop out of school altogether once they begin menstruating. Young women miss twenty percent of school days in a given year due to a lack of facilities or a lack of information or a lack of sanitary products.
In june 2017, EcoSmart Pads told their story during UNFPA's Up Accelerate challenge and the judges were touched. They won a $10,000 to move our idea from inception to prototype development.
Don't you think Eco Smart Pads is going to change this status quo?