Started a few years ago, local tailoring entrepreneur Harry Patel under his company Tengi Styles has over the years joined the helping hand supporting local communities with emphasis to the girl child and women in the rural areas of Jinja District.
This is all done under the 'Abaana Abaidho' Organisation that runs on the 'Changing a life' tagline. Through numerous tailored projects, the Foundation is changing the lives of very many young girls, and women in local communities especially in Jinja.
Apart from selling some of the best custom-made 'Bitengi' that they also deliver in Kampala, Tengi Styles has taken up the mantle to deliver and train girls and women in hands-on tailoring skills.
With this initiative, the Company and foundation have not only supported girls and women in tailoring but have also donated sewing machines to these people to enable them utilise the skills they have gained thus offering them an opportunity of earning a living through tailoring and through Tengi Styles that already has a functional client base.
The Foundation also engages young children under the school's kids & community gala where they come together to play soccer/football as well as giving them scholastic materials to enable them go through school smoothly.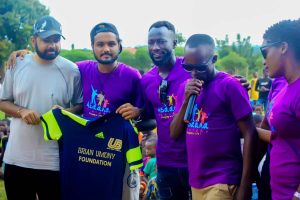 Brian Umony Foundation donating jerseys to the Abaana Abaidho Foundation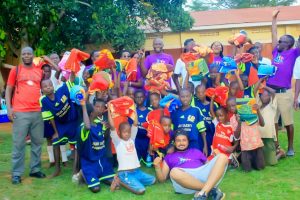 Together with local celebrities like Maro and the Brian Umony Foundation, who inspire young people to follow their dreams and use all available resources to better their lives have changed the course of life in rural Jinja
Through the use of fashion to change the lives of the needy and to empower the local person, Abaana Abaidho Foundation is continuously looking forward to creating and tailor make programs and projects to better the life of the rural and ultra-poor person.
Who is Harry Patel?
Source: Proud to be a Musoga
Hari Patel aka 'Waiswa', from Buwenge, Jinja District, is 'Proud to be a Musoga'. Hari qualifies as a 'true' Musoga, having been born, schooled and still lives in Buwenge. He is fluent in spoken and written Lusoga and loves Jinja.
He is very passionate and active about Busoga and owns a local charity, Abaana Abaidho, that uses football/sport to build confidence and unite the youth, and teaches vocational skills like tailoring.