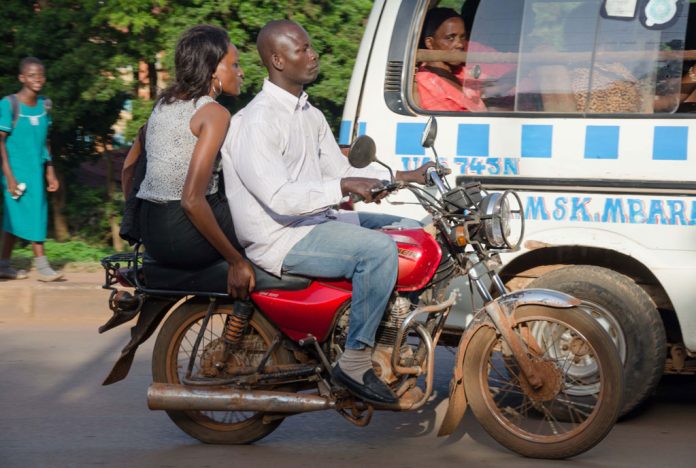 You will love them but curse them. City drivers loathe them yet dwellers cherish them, they are swift, they are Uganda's most loved, hated, and adored passenger motorbikes- the boda-boda.
In Kampala you do not need a map, you need a boda-boda. Name your destination to rest assured to reach your destination as fast as you can. You don't have to be afraid of the dark; all you need is a trusted one that will take you safely home.
Kampala traffic can be terrible especially workday mornings and evenings or when it has rained. I have never figured out a logical explanation for this, but the boda-boda will whisk you through the bumper-to-bumper traffic quandary with little resistance.
We distaste them yet we enjoy their lawlessness; they defy traffic rules to get you to your destination. Traffic policemen don't even bother arresting and I don't know why.
It is a love-hate relationship with the boda-boda.
Do you want to catch up on current affairs? Just trigger a conversation or think about any topic, they will be at it – they are incredible informers, political and soccer analysts, and even counselors. As I rode on the boda-boda one day, I complained about the bad road from my home, the rider told me how the people in power think about only their families, and yet the rest of us it is "every man for himself and God for us all." Coincidentally that road we were complaining about was repaired two weeks later.
Boda-boda riders have studied the human traits, that they manipulate to the fullest. They will tell whether you are broke or have money, city dweller, or visitor whether you know where you are going or not. For some, if you insist on speaking English, they will charge you highly. If you are of a different race, they will double the fare. When they realize that you don't know where you are going, they take the longest route or move in circles so that you can feel that there was value for the money.
It is a love-hate relationship with the Boda- Boda.
Disaster, danger, risk, ruthlessness, chaos, and carnage are what come to the mind of the 20 something lady I spoke to. "Hospitals all over the country are full of their victims," she said, "I suggest that a boda-boda ward at Mulago hospital is open," one suggested.
This affair has got brains to work; "Tambula boda-boda" a boda-boda recovery-tracking app has been developed to recover them since many riders have lost their lives and bikes to thugs in the city and then the "Safe-Boda" an app that was developed to help link passengers to a safe boda-boda because this ever-present quick taxi has maimed and killed many Ugandans. 3000 die every year.
It is a love-hate relationship with the Boda- Boda.
The question of what the government is doing about this lingers. What policies are in place? The riders are supposed to put on helmets according to the traffic laws. The passengers too are supposed to have these helmets but hardly do boda-boda passengers put on helmets.
Yet, many youths have found a source of employment from the boda-boda. While the rest of the citizens choose to hate them, most of those I have interacted with, have stories of incredible resilience, my "Boda-guy" had it all, as a school drop-out, he started a business that grew to become a cross-border one.
"I had working-capital of about 40 million Uganda shillings, so I started importing rice from Tanzania, one day, we loaded the merchandise on a truck headed for Uganda through Mutukula border, the driver and the truck have never been seen again, our goods were stolen we tried to pursue the case, but it was all in vain," he said.
The Boda-Boda was his next resort, with the little money he had remained with he had bought one, he has never recovered from that loss but has hope that his story is not yet over.
Love them or hate them, they are part of us. It is that one complicated relationship that you swear never to look back to but end up going back to. If you must go back take precautions put on a helmet it costs 40,000 Uganda shillings it will save your skull from breaking into pieces.
It is a love-hate relationship with the boda-boda.