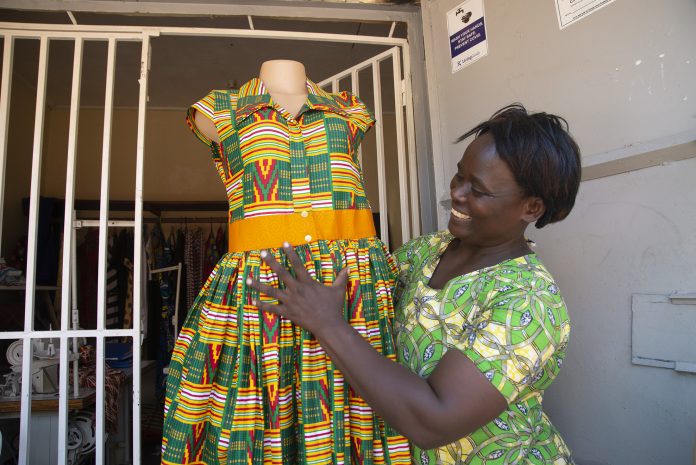 Unemployment remains one of the most highlighted challenges for young people in Uganda today. The 2014 Uganda Census Report indicates that Uganda's population between the productive age of 14 and 64 is slightly over 18 million. with 58% of this population group unemployed, it means that Uganda's total non-utilized labour potential is 10.4m as of 2014.
One woman is trying to change this status quo.
Meet Noeline Kirabo, a change agent and the founder and C.E.O of Kyusa Uganda, a non-profit organization that is empowering out of school youth to become employable by starting their own business or get available jobs.
"Our organization focuses on youth between 15 to 25 years of age to help them discover and harness their passions and make them employable in the fast growing entrepreneurial environment of Uganda." Says Noeline.
It all started as a dream when Noeline herself was working a full time, well-paying job. She desired to do something that would leave a legacy. Having a background of not being in tertiary education herself, she wanted to offer the same hope to youth who withdraw themselves from endless possibilities because they consider themselves unemployable due to dropping out of school.
'My passion derives from my experience as a former school dropout. I educated myself using online courses. When I got my first job, there was no turning back. At the height of my career, I was challenged to think about the legacy I wanted to build. The more I thought about it, the more I realized that my passion was in people developing more so empowering youth to live purposeful and fruitful lives.' She says.
Kyusa seeks to eradicate the issue of youth unemployment by accelerating youth employability. The organization has been in existence since 2014 and has grown from its pioneer lot of 10 students to a total of 250 graduates with great testimonies about the impact Kyusa had on their lives.
The initiative offers programs that include business startup trainings for potential entrepreneurs, business acceleration for small and micro entrepreneurs, employability class for youth seeking to enter formal employment.
"Support programs are also offered to participants including mentor matching with business icons, exposure filled visits to gather hands on skill, support to attend vocational training, apprenticeship training, apprenticeship placements, business branding and incubation. " Noeline says.
This rich syllabus has seen majority of the Kyusa alumni successfully running small and medium enterprises.
Julius, one of the alumni from Kyusa started a catering business that has grown into a full restaurant operating in Kisenyi. He employs four people and is working with Kyusa to start an apprenticeship program. He also runs an Events Management Company where he offers ushers, public address system and outside catering services and employs 20 youth on part time basis.
Another beneficiary Henry, runs a commercial farm on eight acres of land. He grows fruits and vegetables. Henry employs 15 youth on his farm and he is also working with Kyusa to launch an agribusiness training center for youth on Nakaseke.
Deborah another alumni,  has started a pineapple jam business and is in the process of standardizing the brand so as to sell across the East African market.
Noeline is a 2013 Kanthari fellow, 2014 Hive San Francisco fellow, 2015 Cherry Blaire Foundation Mentee, 2016 Community Solutions Program fellow, 2017 YALI Regional Leadership Center Fellow.
The journey has not been all rose and no thorn for Kyusa. Noeline started out with very little funding from friends and family. She had to learn to get the job done with the few available resources which is a valuable lesson up to date. But like they say, 'Where there is a will, there is a way!' Overtime many people have bought into the vision and partnered with Kyusa to get to this point.
Noeline looks up to her mother who made her believe she could be anything she set her heart to. She is inspired by Pastor Moses Mukisa of Worship Harvest ministries who has taught her a lot about vision, people development, leadership and resourcing for the vision.
Kyusa ultimate vision is to build a replicable model that will empower 10,000 youth annually across the African continent through the collaborative efforts of partners across Africa.