Jimmy Kasule Chan is a 29-year-old man who has dedicated his life to supporting the children of prisoners in Uganda. With over sixteen children from twelve families in his programme today, he is working towards his vision of a prosperous future for the children of Ugandan prisoners.
His desire to change the lives of prisoner's children was awakened in 2012 when he was wrongfully detained at the Harare remand centre in Zimbabwe for six months.
"My friend had told me to go with him to South Africa for work. When we got there, things were very tight and we decided to come back home after two weeks with some electronics for sale. We thought this could be our business. On our way, we had to go through Harare but we did not have some stamps in our passports. Because Uganda does not have an embassy in Zimbabwe, we had gone through the Tanzanian embassy but the people at the border could not understand this. We were taken to Interpol and on getting there, we were arrested for Border Jump. We were detained in Harare remand centre for 6 months without having any real contact with anyone. There were 12 Ugandans in total" he narrated. "My wife was seven months pregnant at that time and I kept thinking, what if I never go back to Uganda? Who will help my child? I resolved to help children of prisoners if I ever got out of this prison."
Jimmy described his time as a prisoner in a foreign country as horrific and inhumane, with poor feeding and little to no medical care.
"It was terrible. The food was the worst and sometimes not cooked properly in fact, people used to get sick all the time. One Ugandan died from a stomach infection. We used to eat something called "Chingwa", that tasted like spoilt bread. Winter was the worst because we were given these thin blankets and no mattress."
With the tireless help of his wife, jimmy was released from Harare remand centre in 2012 and on getting back to Uganda, the first thing he did was to get a job that would give him the funds to support these children.
"A friend introduced me to a gentleman who gave me his car for business. I used to transport people most especially tourists and pay him UGX 300,000 every week. I got a very nice client called Mona, who I found out was the president of Children of prisoners, Sweden. After she left, I sent her an email asking for a meeting and she agreed to meet me. I told her about my vision and she seemed very excited about it. She was happy to meet someone who shared her vision."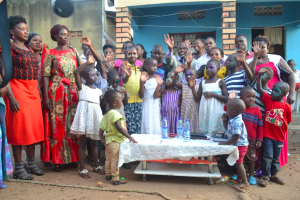 A few months later, Mona asked Jimmy to visit one of the children her organization sponsored, Chrispus, at his school.
"When I visited him, he was excited that a stranger could come to see him. I kept visiting him on Visiting Days. He told me about his father who had been serving a long sentence in Luzira. I went to visit him and I asked him to introduce me to other people in the prison who I could talk to. I met people who would directed me to their families now my wife and I go to visit them and take for them some things."
For four years now, Jimmy has conducted monthly visits to families of prisoners and has taken on the guardianship of Chrispus, who he regards as his firstborn. He also hosts an annual Christmas party for the children where he invites other children from the neighbourhood to make merry and meet father Christmas.
At one of the children's Christmas parties Kasule has hosted
Jimmy believes that children, more so whose parents have been imprisoned, need to be loved and cared for so they do not find the need to commit any crimes and end up in prisons as well.
Would you like to support children of prisoners or volunteer on family visits?