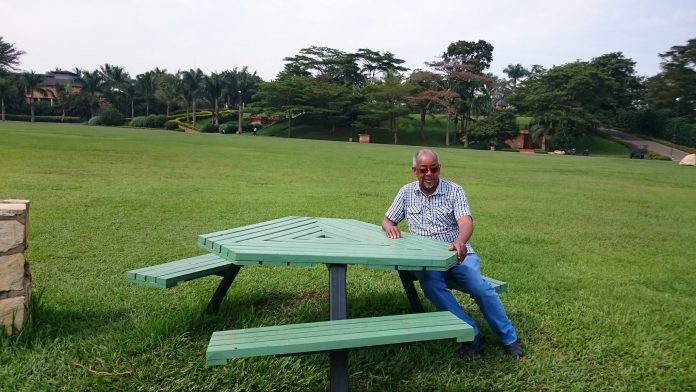 Some of my friends are surprised at my attachment to Uganda. Indeed, this country has an important place in my heart for the efforts it has made to get out from difficult conditions in which it had been plunged by political instability, dictatorship, and war.
When I visit Kampala today, I recall my previous visits and admire the progress made. During my career as UNIDO staff member, I visited the city twice. The first time was in 1979 as a member of a joint United Nations Agencies mission to identify and assess the needs of the country for urgent assistance after the difficult period of dictatorship and civil war that led to the fall of Idi Amin Dada. Personally, I was in charge for the coordination of the industrial field.
Living conditions were so difficult that we had to bring bread and biscuits from Nairobi because there was nothing in Kampala. Key government officials were housed, like us, in the Continental hotel, if I remember correctly, which became nowadays the Sheraton Hotel. In the corridors, it was not uncommon to see children actually easing themselves. To get water for the toilet, we had to awake between 4:00 am and 6:00 am.
I returned to Kampala in 1990 still on a UNIDO mission to promote the Africa industrialization day, which had been proclaimed in Harare by the 9th Conference of African Ministers of Industry in 1989. The economic situation of the country had improved impressively. The hotel offered the same comfort as similar international class hotels, at significantly lower prices.
During my mission to Rwanda as part of the MINUAR2, I returned with my wife to celebrate 1995 New Year Eve in Kampala. What struck us was to see children in western clothes. The boys looked like men in miniature with their 3 pieces-suit and tie. As for girls, they wore bright clothes, too sophisticated for their age. All the dresses created an atmosphere of Carnival before time.
It was only during the successive visits in 2015/2016 I could appreciate fully the beauty of Kampala and Uganda in general. It is most striking to see from the exit of the airport in Entebbe to Kampala city the cleanliness that can be found everywhere. I didn't notice immediately that people do not smoke in public places. It is only when I didn't see cigarette butts anywhere on the ground that I become aware of this fact. Moreover, despite the complaints of Kampala drivers of traffic and manner of driving of other motorists, I found that a certain discipline on the roads, compared to other African main cities.
Then, what immediately draws the visitor's attention is the rich biodiversity: greenery, butterflies, and flowers. At Mbuya, where lives my son's family in a compound of several villas, I was surprised to see monkeys leaping in the trees or walking on roofs or playing at the poolside.
In mid-January 2016, visiting the conference center which hosted the meeting of Heads of Government of the Commonwealth in 2007 in Munyonyo, a suburb of Kampala, amazed by all the splendor of this lush vegetation offering a wide variety of green, flowers and butterflies, lulled by the waves of the omnipresent Lake Victoria, I asked my friend Pru, I affectionately call my daughter in Uganda, how many months all this splendor would last in the year. She calmly replied that it was like this all the year around.
Nature has been generous with this country. Uganda Wildlife Authority (UWA) said it manages ten national parks offering the best in East Africa. Uganda, the "Pearl of Africa" exhibits over 1,000 species of birds – many of which are found nowhere else on the planet- 13 types of primates, including more than half of the mountain gorillas in the world. The Queen Elizabeth National Park only, which covers nearly 2,000 square kilometers, has 57 types of plants and different trees, 95 species of mammals and over 600 species of birds.
Tourism growth is real. Last year, it ranked  before remittances of emigrants and coffee exports, as leading foreign currency source for the country with $ 1.4 billion USD compared to 1.1 billion $ for the previous year.
Coming from Europe, where the influx of migrants is creating an unhealthy atmosphere, in particular for visible minorities, I have to include among the factors that make me love this country, the friendliness of Ugandans. One breathes an atmosphere of peace and security throughout the country. Wanting to walk from Mbuya to Village Mall, I asked three friends whether there was any risk, having my computer. All three assured me that I would not run any risk. Throughout the month of January 2016 I was in Kampala, I made the same trip without encountering any problems. Rather, out of the compound where I lived, while walking out of the compound without me asking for it that people who were passing in their cars stopped to offer me a lift, and deflecting their path they accompany me to my destination.
Unfortunately, all this environmental wealth may be at risk of profound changes in the coming years. Indeed, major oil reserves discoveries were made, particularly in Lake Albert. These are the third-largest reserves in Sub-Saharan Africa, behind only Nigeria and Angola. These reserves may make Uganda a leading exporter, after meeting its domestic needs.
But the risks are serious, especially when I think of the consequences of the reckless behavior of the oil companies in other parts of Africa, particularly in the Niger Delta.
Nonetheless, immediately, after the elections, I will be back for 4 months.