Uganda is not only endowed with awesome physical features but also great historical sites. Most of these we last saw or heard about them in our Social Studies (SST) books. Many Ugandans will prefer to go on a honeymoon abroad yet they have never visited these amazing sites.  Maybe it is time to become tourists in our own home.
1.  Fort Pakito
This is one amazing historical site in Uganda which is rarely talked about. The strategically located fort is believed to be 136 years old and stands on top of Ocecu hill in present day Gulu district found in northern Uganda. Re-known explorer Sir Samuel Baker over run the slave habour which had been constructed by Arab traders as a trench to avoid the escape of captives. He expelled over 250 Arabs and fortified the place hence the name it is known today. the fort is enclosed by a 16 feet wide and 15 feet deep and covers about 9.4 hectares.
2. Entebbe War Memorial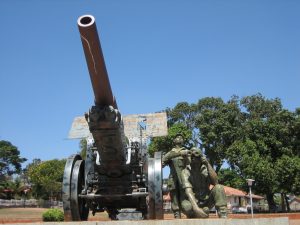 3. Nakayima tree
Nakayima tree is 40 meters high and is estimated be 400-500 years old. Located on top of Mubende Hill on Kampala-Fort portal Road.  Just a look at the root structure of the tree, will show you four formed wide spaces known to be resting rooms each for Ddahula, Nalongo Jajja Mukasa, Jajja Musoke and Kilunda.  People go there to seek blessings especially fertility.
4.  Nyero rock paintings.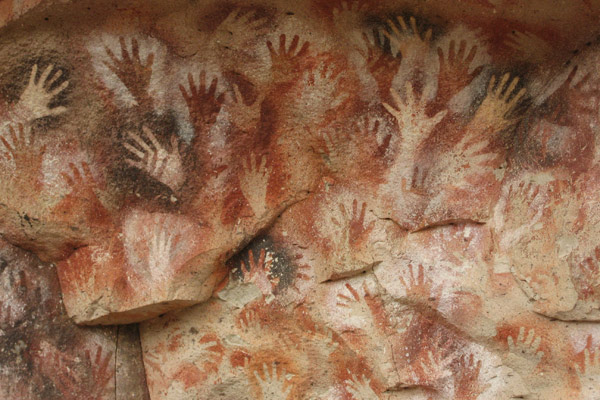 paintings are pre-historic paintings believed to be 765 or more years old (dating back to before 1250 AD!). Located in Kumi district, Eastern Uganda, the paintings were first documented in 1913. Many historians have argued that the paintings are credited to the Batwa (Twa) hunter-gatherers who are of Pygmy origin, and are today, only found in small groups in the far western part of Uganda. Many believe that they (Batwa), once lived in the general area of these rock art sites, probably moving on due to the arrival of the present inhabitants (Nilotic, luo and Bantu groups). These beautiful paintings are a representation of the rich cultural identity of the people of Iteso, Uganda, and Africa as a whole.
Until today, mystery still surrounds who painted them since no one openly has history relating to the actual individuals who painted them. The red and white paintings are believed to represent sacred places of gods according to the current inhabitants of the region, the itesots.
5. Sezibwa falls
These falls lie 35km east of Kampala in the Vanilla growing district of Mukono district. The spectacular waterfalls are believed to have been born by humans many hundred years ago. The falls are one of the most spiritual and cultural centres where many natives flock for blessings, wealth, and fortunes. A traditional healer performs ceremonies for those seeking love, children, a successful business deal or a good harvest.
6. Katereke Prison Ditch
Katereke prison ditch is one of the major symbols of tyranny and dictatorship in pre-historic Uganda. It represents a history of brutal and vicious incidents in Buganda's history. It is believed to have been constructed by the late Kabaka Kalema during the late 1880s. He constructed the ditch to be torturing chambers of all princes and princesses whom he suspected to be his rivals. Many of these rivals were rounded up and exiled at Katereke for fear that they would one day overthrow him. These prisoners were later slaughtered without mercy.
7. Wamala tombs
These beautiful and spectacular tombs are found on a hill in Nabweru Sub-county, Wakiso district. The dome structure makes the traditional site very attractive from a far. The tombs, are the burial site of Buganda's King, Suuna II who was the 29th king of Buganda Kingdom.
Ssekabaka Ssuna II is remembered as the first Kabaka of Buganda to be buried with his law intact. The word Kabaka according to Ssebabenge, comes from the phrase: "Kano kaba kani?" (Whose jaw is this?) This is because upon the Kabaka's death, his jaw would be removed and his widows would be asked whose jaw it was.
8. The Kasubi Tombs.
These magnificent traditional tombs, are the royal burial grounds of the Buganda Kings accredited by UNESCO world Heritage site. They are located just outside Kampala and reaching there is only an hour's drive from the city. According to the Baganda, it is also considered a spiritual site and center for the kingdom. The recorded former kings of Buganda buried here are four (successive) and they are are the following;
Muteesa I (1835-1884)
Mwanga II (1867- 1903)
Daudi Chwa (1896-1939)
Sir Edward Mutesa II (1924-1969)
Sadly, the tombs burned in 2010 but are being restored by a campaign led by Buganda's Prime Minister Mayiga named "Etoffali".
9. Amabere Ga Nyinamwiru
This site is overwhelmingly spectacular. It houses an many caves, waterfalls and a hot spring. Amabere ga nyinamwiru is located 10 km from Fort Portal in Kabarole district in western Uganda. The site is best described and admired for its rare display of beautiful stalagmites and stalactites in form of breasts which release milky substances almost every after 25 seconds.
Mystery surrounds history relating to this amazing site. Under the Tooro Kingdom culture, it is believed that Nyamwiru, a princess of Toro and Bunyoro Kingdoms never wanted to marry the man her father had wanted her to marry. When she refused, her breasts were cut off as a punishment for the disrespect of her father. There is also a contradicting version which says that she boldly cut off the breasts herself in protest against her father's wish. Either way as it happened, her breasts turned into rocks dripping with milk and hence the formation of the site
10. Bulange building
This is the traditional seat of the Buganda Parliament standing on the south side of Natete road. It is one of the most impressive colonial era building in Uganda.
Bulange is one of the most significant buildings found in the palace (Lubiri). It hosts the Kingdom`s administration and its Parliament where the Kabaka meets members of the Buganda Lukiiko (Buganda Parliament). Before Bulange building was constructed, members of the Lukiiko used to sit under trees on grass but later, they decided to build the Lukiiko sit which was grass thatched. Later, Sir Apollo Kaggwa who was the then Prime Minister decided to build a new Bulange with bricks. He gave the contract to an Indian Alidina Visram and work was started in 1902 (although other sources say work begun in 1885).
Now you have plot. Next time you are looking for a destination you know where to go.