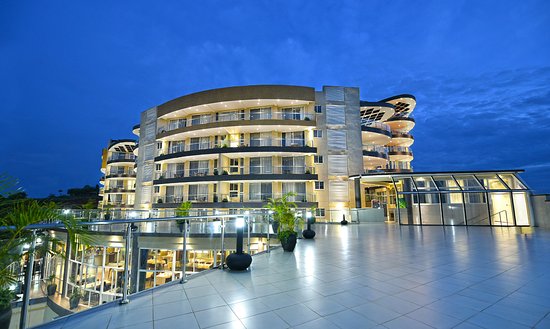 Looking up the hill of Ntinda or rather Naguru, you would see a building standing tall and bright, behold the Naguru Skyz Hotel. The hotel is 4,1 feet and has joined the chain of 5 star hotels in Uganda with it's own unique , exciting and rather formidable luxury accommodation, conferencing and the best city view for business men and travelers.
Owned by Mr. Patrick Bitature, Naguru Skyz Hotel has been listed under the Protea Hotels by the Marriot chain. The Hotel was specially built facing the city with 4 rectangular blocks and five floors on each. The blocks where designed to face each other, you could think it's circular- it's not. From the Hotel, you get a perfect bird eye view of other famous hills of Kampala, namely; Kololo, Muyenga, Mbuya and Mutungo. You can also magnificently view Kamwokya, Bukoto, Ntinda, Kisaasi and more areas west of Kampala CBD
The Naguru Skyz Hotel  boasts of 141 spacious standard and deluxe rooms and other numerous facilities to make anyone's visit worth remembering. The coffee rooms, conference/boadrooms are a plus for any conferences or retreats and one of the Hotel's restaurant has a 120 guests capacity.
The hotel offers, privacy, luxury, comfort-ability and affordability all in just one package. The hotel staff are friendly, hospitable in a unique way and most of all professional. Talking of food, the meals served at Naguru Skyz Hotel are exceptional ranging from local food to international cuisine made by the best chefs in town.
With all it's conference rooms and comfortable bedrooms, Naguru Skyz Hotel is targeting tech-savvy millennials, business travelers, entrepreneurs, and tourists ready with its four-star finishes and quality connectivity, with social hubs for enhanced networking opportunities
Getting in and out of the Hotel is also not a big hustle, with the help of Uber- of course. However, Naguru Skyz Hotel has invested much time in making it easy to come in and leave comfortably as they are in sync with the sister Protea Hotels, and the Airport shuttle.
They also offer laundry/dry cleaning services, for guests all in one package with no extra charge. Security at the hotel is paramount as the premises are guarded 24/7 by professional security personnel who are also helpful to first time visitors. The hotel rooms are also fitted with a safe where guests can keep their valuables.
The rooms are fitted with Turkish sourced furniture, artworks and ceramics, side tables and study lamps, plus textured finishes. All bathrooms have a tub/shower combination, however, those in the Deluxe suites have an added expert touch of marble with a separate shower and toilet, also larger. The rooms also have Air conditioning, LCD TV with access to over 54 channels and a well-appointed King/Queen sized bed.
The Hotel is offering a glorious New Year's day experience on 31st to watch the whole of Kampala usher in a new year (2018) from one of the best view points ever. They are also offering a VIP feel and experience with a New Years Eve Family BBQ at Ugx 90,000, New Year Eve Dinner Party at Ugx 250,000, and other offers on New years Day.
Naguru Skyz Hotel is a dedication to Ms. Carol Bitature, the wife of Mr. Patrick Bitature.
About Mr. Patrick Bitature
Born in Fort Portal, Kabarole District in the Western Region of Uganda in 1960, Patrick Bitature is a Ugandan businessman and entrepreneur. He is the founder and chairman of the Simba Group of Companies, an East African conglomerate, with interests in telecoms, energy production, mining, media, real estate, travel, and leisure. He is the co-owner of Protea Hotels.
Patrick Bitature, is the founder of the Patrick & Carol Bitature Foundation, a charity organisation focusing on education and life-saving health care initiatives. It was established in December 2010 with the main objective of providing education and healthcare to disadvantaged youth in the community.
Patrick Bitature is the chairman of the Private Sector Foundation Uganda, which is an umbrella body composed of private sector enterprises and offering lobbying advocacy and training for its members. He is also Chairman of Umeme Limited since 2007 and also chairman of Electromaxx Uganda (Owner of the 70 megawatt Tororo Thermal Power station).
He has also served as the honorary consul of Australia in Uganda and as the patron of the Australian Alumni Association Uganda.
Book your room today for a comfortable, worthwhile Kampala Visit; Standard rooms go for 211$, Standard club 220$, Deluxe rooms 260$ and Deluxe club = 322$. You can send an email to res@phnaguruskyz.com or call +256 312-554000. The hotel is found at 1 Water Lane Naguru Kampala, Uganda