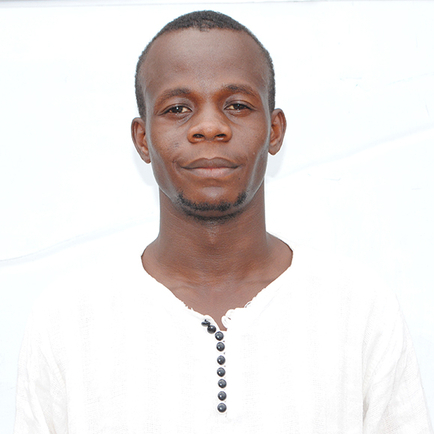 Having lost his mother at an early age, and with his father working as a long-distance truck driver, he faced many challenges growing up in a slum in Bwaise. To earn a livelihood, he found odd jobs like fetching water for the neighbourhood, which he sold at UGX 200 for a 20-litre jerry can. "We did not have running water so I would have to go to the well and people would pay me to fetch water." he says.
Bwaise being a wetland, rubbish would pile up whenever it rained and he used this as an opportunity to collect scrap which he sold at UGX 500 per kilogram and used this money to buy scholastic materials.
His impoverished background was fuel for him to make a difference in his community. He does this through his organisation Vision for Vulnerable Communities Foundation (VIVCOM). Syrill founded VIVCOM with the core values of raising orphans and vulnerable children. It  started in 2012 when he encountered  four homeless children in his neighbourhood. "
"They were very young, helpless and had nowhere to go because most of these women in slums are prostitutes so they can have children without knowing who their fathers. So they abandon children because they cannot afford to look  look after them." Syrill says.
Syrill took matters in his own hands and rented a 30,000 Uganda shillings one roomed house  for the children and used his own income to support and feed them. before he knew it, the number had grown to 54 children . This created a need for more room and caretakers. He rented  two more rooms. He managed to get more children off the street, but this wasn't enough. The children were always idle and were bound to fall into dangerous habits. He was compelled to create a source of education for them. To keep them occupied, impart knowledge and give them a sense of belonging. With help from some friends, he build a temporary structure where the children could go to school. This is currently an active school that that runs from P1 to P5 in Nabweeru.
His vision for VIVCOM is to stop the generation of suffering children. He seeks to create a platform for these children to rise up and make something of themselves despite their backgrounds. he wants to  see them become responsible and respectable leaders of Uganda. He acknowlegdes that maintaining discipline among the children can be a challenge, but they are kept busy with school work and community work. He talks to them and teaches them the values of discipline and hard work.
His advice to  vulnerable parents in his community is to use family planning. With most women in these slums, family planning is ignored and women give birth to more children than they can provide for.
He cites the most common challenges with running this organisation as lack of regular income. This makes feeding, dressing, healthcare, accommodation very difficult. He hasn't had regular funding and he gets all this support from personal donations and his own irregular income.
His vision for VIVCOM is to acquire land on which he could build an orphanage and take in more children and to create an education system where they can go through nursery to university. For it to be a worldwide organisation that seeks to take in vulnerable children all over the world and to promote talent development among these children.
Syrill thanks all those who have gone on to offer support to VIVCOM, and all those who have encouraged him along the way to never give up on these kids. He also seeks more help from everybody out there. Any kind of support is welcome. For all those who would like to make a donation to VIVCOM, .