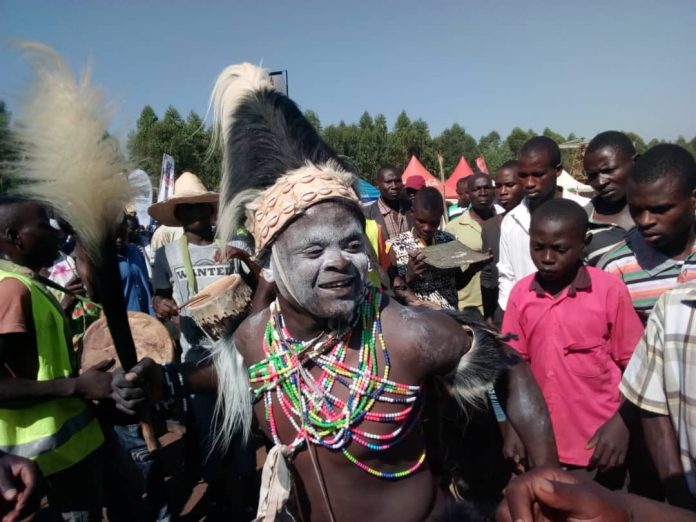 Head to the stunning Mount Elgon National Park, the Sipi falls and Mbale and meet the proud Bagisu people! Despite other African regions where circumcision is conducted indoors with the presence of few associates, the Bagisu have made theirs public, allowing tourists to also attend this great event of life time.
The operation takes one hour in which the surgeon makes 3 bold cuts to remove the foreskin prior the whistle is blown to mark the event complete. The initiate raises his hands strongly, dancing, proudly showing his blooded fellow to an ululating crowd. Crying in the course of the event could denote cowardice hence forbidden. He is then directed to the silent area seated and wrapped in a cloth prior bleeding stops.
He is continued to the fathers home and hand fed for 3 consecutive days before he is ritually washed and permitted to eat with his own hand which marks the end of the ritual. This is one of such final and thrilling moments that can still authentically be traced on Africa hence considering it when planning for your cultural safaris and tours to Uganda. Their ancestral origins date back 500 years ago when the Masaba their forefather merged from caves of the Mount Elgon locally called Mount Masaba as a result of this. It is believed that the Masaba dwells in the upper slopes of the mountain where he conducts his assemblies with lower divines, a fearful thing which can be rated to an encounter with Mudange cliff while hiking safaris on the same mountain.
The Bagisu community is one of those communities in Uganda without central authority in form of kingdoms hence leadership is on clan basis with a non hereditary chief elected by a council of elders. Besides, the Bagisu people are famous for their Imbalu circumcision ceremony a tourist product worth encountering while on cultural safari in Uganda. It dates back to the story that a certain Mugisu man was summoned by the council of elders because of stealing other men's wives and then he was subjected to circumcision as a punishment and preventive action only to yield nothing as he turned stronger and admirable to women than ever before. His colleagues retaliated by circumcising themselves so as to also remain competitive. However, other folks have put it that the practice came into existence via contact with the adjacent Kalenjin of Western Kenya who possessed the same tradition.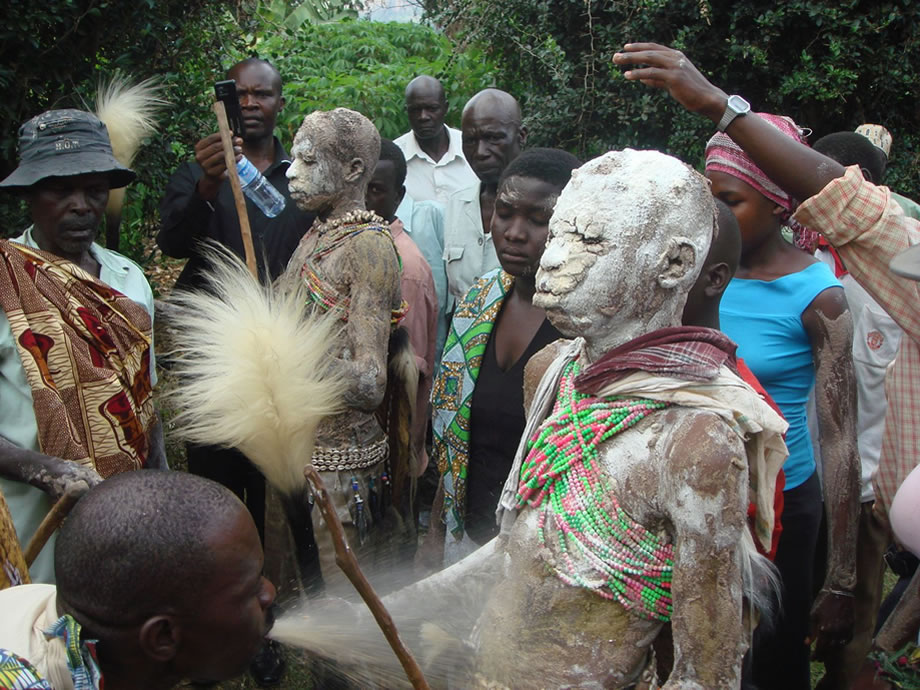 Regardless of the origin, the Imbalu circumcision ceremony is conducted in even years as a personal rite of passage to man hood among the Bagisu. The year for initiation is determined by the person himself and not basically a council of elders or convention. The age bracket between 16 and 26 is always acceptable. The people elect those to be circumcised in any given year announce their intention in May or June and spend the next few months preparing for it. The key observable aspect of the arrangements comprise the initiate decorated in plantain fronds or animal skins and ash plastered face and escorted by a crew of inspiring friends marching and dancing via the streets to connect to his nearest relatives and look their approval. The function is carried out in August hence can be combined in your Uganda safaris and normally prior 10:00am.
This circumcision ritual is a very useful cultural practice. It is a sign of unity due to large numbers of Bagisu who are attracted in the event. It also assists with issues of identity and in the long run has been able to protect and conserve their interesting culture which has become a tourist attraction.
In conclusion, if you are planning your cultural safari on Imbalu circumcision, you are encouraged to combine it with Mount Elgon National Park or Sipi Falls safaris since they are closely next to the Bugisu cultural community and note that this exciting cultural practice is conducted during even years.