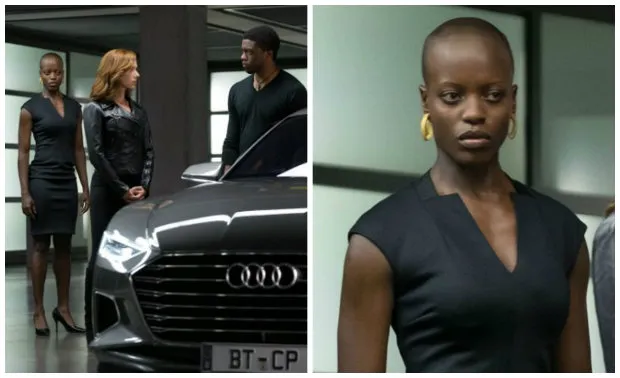 If you have watched Marvel's most recent Captain America: civil war (2016) film, then those words rhyme quite familiar. The statuesque beauty behind those words is Kasumba Florence,39. Kasumba who acted as a security chief boldly told Black Widow to 'move'. Born in Kampala, Uganda, and raised in Berlin, Germany, Kasumba has been in the acting game for quite a while.
She is known for some of her musical roles in productions of The Lion King (as Shenzi), Evita, Mamma Mia (as Lisa), West Side Story (as Rosella), Crazy for you (as Tess), and the beauty and the beast. She is also known for her guest-starring role in Tatort (2006-2016), and Dominion (2014-2015) among others.
Photo: Janine Guldener
Photo: Janine Guldener
In the movie, Florence Kasumba tells Black Widow (Scarlett Johansson), "Move. Or you will be moved." The very words that not only shock the person watching but also go ahead to make one yearn for more of the action in Kasumba's head. Who doesn't want a good fight in a movie anyway!
Florence Kasumba Photo: Stefan Kluter
Florence Kasumba
Photo: Stefan Kluter
Kasumba Florence is expected to play the wicked witch of the East in the anticipated Emerald City (2016-) television series after which, she'll appear in the upcoming Wonder Woman (2017) as Senator Acantha. Way to go Kasumba!