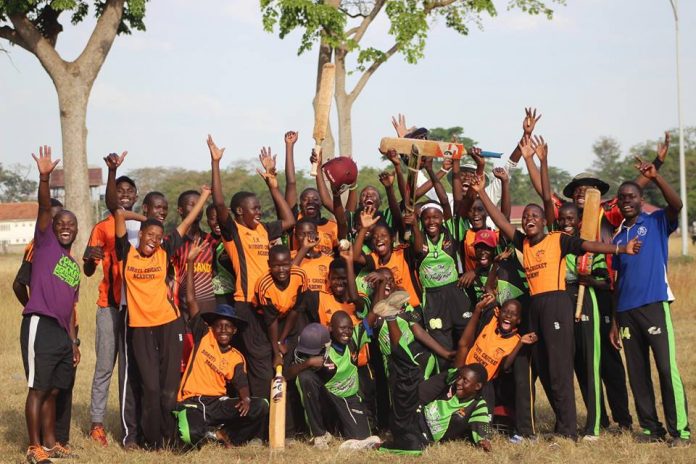 The Soroti Cricket Academy was founded in 2014 with five pioneer cricketers and has since grown to a membership of over 500 players. Founded by Felix Musana, a Certified Public Accountant and passionate cricketer, the academy has supported over 600 young people in Eastern Uganda through cricket, education and youth empowerment programs.
How it started
"I was working in Soroti and one day while I was jogging at a public field, I saw five kids playing cricket, 4 girls and 1 boy. They did not have gear and I worried they would get hurt. They had no one to guide them but they were playing anyway. I was impressed, I could not go forward without supporting them. I got them some gear and that made a very big difference for them. That is how it began," says Musana. "They told their friends who joined the game and within no time, the numbers had increased."
Having gained an appreciation for the sport at an early age and playing throughout secondary and university, Musana's passion and love for the game pushed him to start this academy along with three friends, with a dream of harnessing young people's talent and using the game to empower them to become changemakers. He currently plays for the Soroti Blazers.
To increase its sustainability and recruit more players, the academy works with ten primary schools and six secondary schools in Soroti, Mbale and Lira. They have two professional coaches who take turns training the players in schools. So far, three clubs have been established; Soroti Challengers, Olila girls club and Soroti Blazers and are now competing on the national level.
"We try to introduce cricket at the youngest level in primary and follow through with the players up to university. The youngest players are 8 years old in primary 3."
Whereas cricket is the backbone of the academy, Musana puts much emphasis on education and youth empowerment as well to ensure a better life for its players who are mostly from rural eastern Uganda.
"We go beyond cricket," he says. "Most of the young people we work with come from backgrounds with parents that do not believe in education, especially for girls. We mitigate this by talking to the parents to get them an appreciation for education and the opportunities it brings. The people we work with are from rural communities with challenged backgrounds. We realized that if we do not take that extra step, they wouldn't get much value from playing cricket because many of the players were dropping out of school due to early marriages, drug abuse, pregnancy…"
Through cricket, the academy is empowering young people in rural communities in Eastern Uganda to become change agents. They do radio shows and conduct community programs during school holidays to show how cricket and education are linked.
"While cricket may not be a long-term career, it is a means to a better life for our players. Some have gone up to university level because their tuition is being paid by their patron clubs."
Many players have received bursaries for secondary education and some university scholarships.
"Nine of our players have gotten call ups on the national team and four have represented the country in international games in international games in South Africa, Dubai, Zimbabwe, Namibia, Kenya and Kigali. We have 15 girls who have gotten bursaries in Olila Secondary School, 13 boys at Light SS, four boys in Mukono High School and another at Jinja S.S."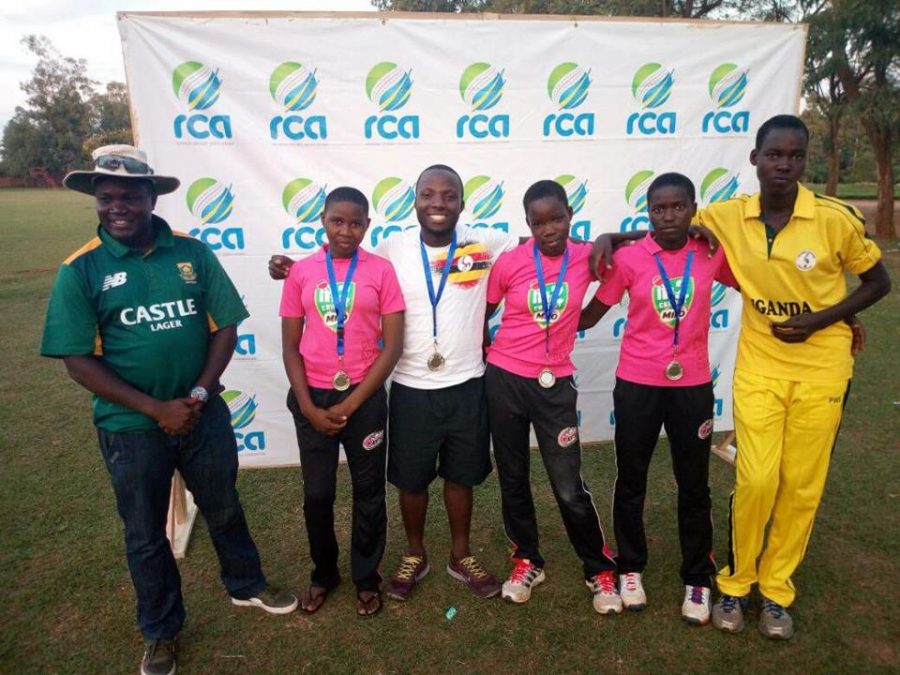 L -R, Felix Musana (Chairman, Soroti Cricket Academy), Anyango, coach Kakande, Apio, Iloku, Anyingo, Alumo after representing Uganda U19s in Rwanda. Photos by Soroti Cricket Academy.
Challenges they face
Being a voluntary project, Soroti Cricket Academy faces a multitude of challenges, most associated with resource mobilization. Without governmental support and limited support from the cricket federation of Uganda, there are very many limitations to how much they can do.
"In the beginning, it was only about getting the players equipment, but now we have 2 permanent coaches who scout train all the teams in the schools. Paying them sufficiently and on time is a challenge."
Because there aren't any cricket facilities in Soroti, the games can only take place in Entebbe, Jinja and Kampala where cricket ovals are. This excludes most of the players who may not afford transport and accommodation to participate.
Working with the schools too presents a challenge as they are more focused on academic work than sports so convincing the administration to let the students participate becomes difficult. However, inspired by the young player's talent, he does not give up.
"I am impressed whenever I visit the players and see how talented they are. That keeps me going. Every time we get a chance to play at the national level, they play at their best. The talent, commitment and hard work these young people exhibit and the success they attain keeps me going. All the accolades we win lift my spirit. I can only consider quitting when I know Soroti has a cricket oval. When teams in Kampala come to play in Soroti."
The future for Soroti Cricket Academy
In its five years of existence, the academy has produced some of the best cricketers in Uganda at the moment such as Joyce Mary Apio, Eloku Esther, Kevin Auro, Alongat Eunice and Apollo Joseph who have received national and inter-school accolades.
"The overall goal is to make Soroti a cricket powerhouse and empower athletes to become community leaders by staying in school." Says Musana. "Already, one of the clubs, Olila cricket club has claimed its position as one of the best in the country."