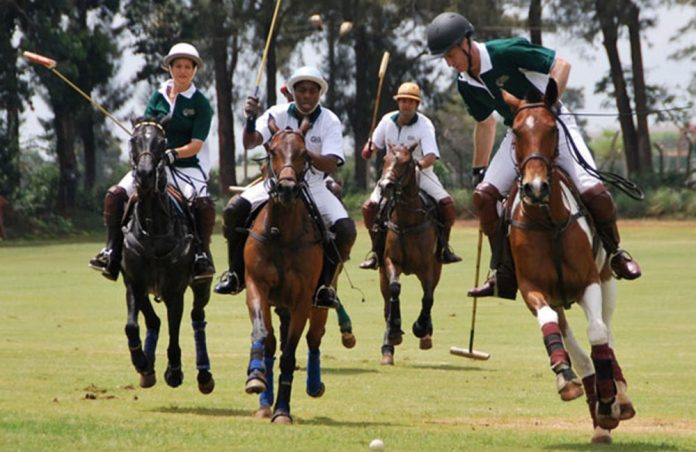 Polo is a fast-moving, exciting and sometimes dangerous sport that can be traced back over 2000 years to ancient Persia. Referred to as the sport of kings, as well as the king of sports, polo was first used as a training game for the king's elite guard.  For warlike tribesman, polo was used as a miniature battle, where over 100 men would play to a side. Today, polo continues to have the reputation of being a royal sport and is often associated with prestige and glamour. But the Madhvani family, who introduced the sport into Uganda, wanted to ensure that it is accessible to all.
Each year, the Madvhani family holds an annual tournament in their backyard with over 500 people coming to enjoy the sport. And the scene is incredible. More than just a polo game, the event provides a great day out from Kampala, in the midst of acres of sugar cane where spectators clad in seersucker suits, and elaborate hats gather around the large green polo pitch sipping Pimms and watching the action on the field.
Polo is exhilarating to watch with each player armed with a long wooden mallet that they use as they gallop furiously, and lean precariously off their horses, to hit the ball through the opposing team's goal. The horses can run as fast as 35 miles per hour and, due to the pace, the chukker (or period of play) ends at seven and half minutes in order that they can be swapped out.  There are four players to a side and a match lasts around 1 hour. After each goal scored, the ends change sides. Goals are scored when a team manages to get the ball through the opposing team's goal – much like football. The players come from all over East Africa, India as well as Nigeria and Zambia, to enjoy the game. No matter where they come from, all players have one thing in common—they are hungry to win. That hunger is evident as they battle furiously over the ownership of the small, plastic, ball.
As part of making polo accessible to all, the Kakira Nile Polo Club is holding their annual polo tournament on the 24-25 November 2012 and everyone is welcome.  Tickets are now on sale at Prunes (https://www.facebook.com/pages/Prunes/269221023158025?fref=ts) or by calling +256 (0)752422274 or +256 (0) 757622626, or by emailing info@polo.ug, or by visiting www.polo.ug/. A map to the polo grounds can be found below. Like every year, the aim is to create new interest in the sport and allow people, who may not have previously been introduced to polo, to learn more about it. The KNPC also offers regular workshops to provide individuals who are new to the sport the opportunity to try it out.
If you're interested in attending the 2012 Nile Gold Polo Invitational get your tickets quickly. They are only sold in advance and not available on the day of at the gate. Tickets are 75,000 UGX. Plan to arrive by 10am to find parking and bring a picnic to make the most of the day out. For more details on ticket purchase, or to learn more about polo in Uganda, visit the KNPC website at: http://www.polo.ug/Polo.ug.html
Want IN Uganda's fresh content delivered to your in-box each Friday? Sign up for our free newsletter: https://www.thisisuganda.org