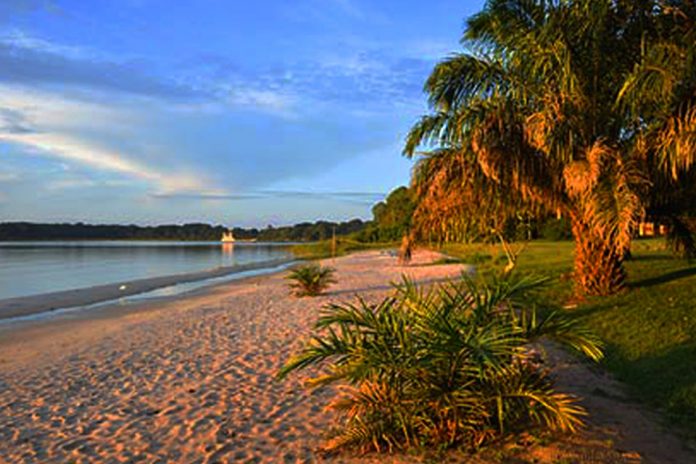 Uganda is endowed with lakes and rivers. Among these, there is lake Victoria where the Ssese islands are found.
These islands lie in the western section of Lake Victoria, in the Kalangala district.
There are 84 small islands in total and the islands vary in size from less than 10,000sq km to over 40km in length. The largest island is Bugala.
The Sesse islands came into existence 12,000 years ago when a tectonic shift caused an elevated basin situated between the two main arms of the Great Rift Valley to flood, forming Lake Victoria.
History and Background of Ssese Islands in Uganda
Situated in the northwest of Lake Victoria, the Ssese Islands form one of Uganda's prime destinations for casual rambling and off-the-beaten-track exploration, as well as for game fishing, in particular Nile perch.
During the 1990s, the islands were Uganda's most popular backpackers' chill-out destination, at least until the ferry service from Port Bell (Kampala) was suspended in 1997.
Inevitably, with access limited to less-than-comfortable 'lake taxis' from Entebbe and a roundabout approach from Masaka to the Bukakata ferry, the islands lost their place in the hearts of independent travelers, the affection being grabbed by the more accessible Lake Bunyonyi, the site of burgeoning tourist development in recent years.
However, the Ssese Islands are experiencing a renaissance in tourism activity after years of relative isolation, following the inauguration of a superb new European-built passenger/vehicle ferry that cruises between Entebbe and Buggala Island in three easy hours.
Drivers and backpackers alike will quickly spot that the new Entebbe ferry and the long-serving bucket ferry can be combined to enable a visit to the Ssese Islands en route to/from attractions further down the Masaka Road.
The Ssese archipelago consists of 84 separate islands, some large and densely inhabited, others small and deserted, but all lushly forested thanks to annual average rainfall in excess of 2,000mm.
Only two islands regularly receive tourists. The more established of these is Buggala, the largest, most accessible, and most developed of the islands. A significant number of travelers also head to tiny Banda Island, which is the site of a popular budget resort.
Other islands that can be visited with varying degrees of ease are Bubeke, Bukasa and Bufumira. Not least amongst the Ssese Islands' attractions are their rustic character and the sense of being well away from any established tourist circuit.
But, as in other out of- the-way places, it is suggested that you dress conservatively except in resort and campsite grounds, and to swim with a T-shirt on. The Ssese Islands are reputed to have the highest proportion of HIV infection in Uganda.
Buggala Island of Ssese Islands
Extending over 200km2 and measuring 43km from east to west, Buggala is the largest island set within the Ugandan waters of Lake Victoria, and the best developed for tourism, linked to the mainland by a regular motor ferry and dotted with accommodation to suit most tastes and budgets.
Kalangala, the administrative center for the islands, is an unremarkable small town situated on a ridge at the eastern end of Buggala, while the nearby Lutoboka Bay hosts the island's main cluster of beach resorts.
Note that Lutoboka can no longer be relied on as a quiet tropical island retreat.
It may be peaceful enough during the week, but at weekends, one or other of the beach resorts may host a function during which it is mandatory to play amplified music at full volume until the small hours.
Since some of these events are audible on Banda Island, 15km away, you can imagine how chuffed you'll be if you're a resident on Lutoboka Beach.
This issue aside, Lutoboka Bay is a lovely setting that offers a variety of beach activities; building sandcastles, swimming (though bilharzia is certainly a risk;
If your tolerance for beach-oriented activities is tested, Buggala Island offers great possibilities for unstructured walking.
The road from the ferry to Mirembe Resort passes through grassland and a beautiful patch of forest that will interest birders.
From Kalangala Town on the ridge above Lutoboka, strike out in any direction to find pleasing views over forests and grassy clearings to the lakeshore and more distant islands.
To explore further afield, you can either hike or try to hire a bicycle from Andronica Lodge.
A popular cycling excursion is to Mutumbula swimming beach – reputedly free of bilharzia – which lies off the road towards Luku.
Travelers tend to concentrate on the Kalangala–Luku road, and justifiably so since the road heading south from Kalangala is far more cultivated.
The one potentially interesting goal in this direction is the marshy southwestern shores, which harbour small numbers of hippo as well as a population of sitatunga antelope with larger horns than the mainland equivalent, regarded by some authorities to represent an endemic island race.
Without a private vehicle, you would probably need to do an overnight walking or cycling trip to get to these swamps.
Another important landmark on Buggala is Luku itself, the small village on the western extreme of the island where the motor ferry from the mainland docks.
A good dirt road connects Luku to Kalangala Town, while minor roads run to other villages lying further south on the island.
The most common large mammal on Buggala is the vervet monkey, often seen in the vicinity of Lutoboka and Kalangala.
Bushbuck and black-and-white colobus are present but seldom observed.
Over the 12,000 years that the island has been separate from the mainland, one endemic creek rat and three endemic butterfly species have evolved.
Water and forest birds are prolific. Expect to see a variety of hornbills, barbets, turacos, robin-chats, flycatchers, and weavers from the roads around Kalangala.
Particularly common are the jewel-like pygmy kingfisher, the brown-throated wattle-eye, and a stunning morph of the paradise flycatcher intermediate to the orange and white phases illustrated in most east African field guides.
African fish eagles and palm nut vultures are often seen near the lake, while immense breeding colonies of little egret and great cormorant occur on Lutoboka and other bays.
Getting to Buggala Island and away
The MV Kalangala ferry service to Lutoboka Port on Buggala Island operates out of Nakiwogo Port on the western side of Entebbe Peninsula.
To get there in a private vehicle, turn off Kampala Road (ie: Entebbe High Street) at the Moneygram office and follow Wilson Road for 3km to the port.
Parking is available either at the nearby police post or at a nearby Delta fuel station for a small consideration.
Those arriving by minibus-taxi from Kampala should stay aboard until the trip terminates at the scruffy Kitoro suburb off Airport Road and then take a special hire or boda-boda along Nakiwogo Road to the port (again about 3km).
The ferry leaves promptly at 14.00, arriving at Lutoboka at 17.30. The supposed capacity is just 108 seated passengers (though I've heard reports of standing room only at busy times) and eight vehicles (less if a truck shows up) so foot passengers should turn up 30 minutes before departure and drivers at least an hour.
Second-class passage on wooden benches costs Ush10,000 and first-class (comfortable padded seats with tables) is Ush14,000.
A car or 4×4 vehicle costs Ush50,000. Bottled drinks and snacks are available onboard. The ferry overnights at Lutoboka, returning to Nakiwogo from 08.00 to 11.30.
The return trip to Entebbe can be busy at the end of holiday weekends, and returning drivers are advised to park on the jetty the night before and have a quiet word with the captain.
Other possibilities are the (free) Bukakata–Buggala vehicle ferry near Masaka and lake-taxis (local fishing boats) operating from Kasenyi landing near Entebbe.
The former runs three times per day in either direction between the Kabassese jetty at Bukakata on the mainland and the island port of Luku.
The trip should take around five hours coming from Kampala or two to three hours direct from Masaka, assuming that your arrival at the jetty coincides with the departure of the ferry.
Step one out of Masaka involves following the same directions as given above for Lake Nabugabo, but instead of turning right at the junction 14km out of Nyendo, keep going straight for another 25km until you reach the jetty.
The ferry, which takes 50 minutes to cross, theoretically leaves from Kabassese at 08.00, 11.00, 14.00, and 17.00 and from Luku at 09.00, 12.00, 15.00, and 18.00 daily except for Sundays when the earliest crossing in each direction is dropped.
This timetable is somewhat loosely adhered to, however, making it advisable to be at the jetty a good hour before the scheduled crossing time.
The road between Luku and Kalangala is generally in good condition, and can usually be covered in less than one hour, though some stretches might be slippery after heavy rain.
Note that the Luku ferry occasionally stops running for a few days while repairs are undertaken, in which case you would have to return on the Entebbe ferry.
A reliable bus service connects Kampala to Kalangala, leaving the new taxi park in Kampala at 08.00 daily except for Sunday, and leaving from Kalangala at 11.00- ish daily except Sunday. Tickets cost Ush12,000.
Where to stay in Buggala Island
Moderate
There are several options in this category, most of which are located around the sandy Lutoboka Bay Beach.
These are described in order of proximity to the new ferry landing.
Palm Resort Beach, is comparatively isolated on a separate beach on the peninsula south of the port, while Ssese Habitat Resort is a few kilometers away at Bulago.
Pearl Gardens Beach : This lakefront resort offers rooms & cottages just meters from the ferry. A bar/reception at the top of the site provides DSTV & free internet for residents. If you're planning to stay here, or indeed anywhere at Lutoboka, it's worth phoning to see whether Pearl Gardens has a function planned during your visit.
Ssese Islands Beach Hotel: This smart but underutilised facility consists of a string of white, beachfront cottages set in the forest edge, 15mins' walk from the ferry landing. Game fishing & other boat excursions can be arranged, along with guided forest walks & birdwatching trips.
Ssese Island Club: About 300m along the beach from the Beach Hotel, the Ssese Island Club provides comfortable s/c wooden chalets or standing tents between the lake & enclosing forest.
Mirembe Resort: Set in a quiet location at the northern end of the beach, this new resort provides attractive s/c rooms with a lake view.
Ssese Palm Beach Resort: Standing at the eastern end of Lutoboka Bay, the round thatched cottages of Palm Beach with their forest backdrop provide a picturesque sight as the ferry steams into port.
Ssese Habitat Resort: This new resort is set some distance from the main Lutoboka Beach on the western side of the bay at Buligo. Guests are met at the ferry & transferred by vehicle to the resort. Modern, lake-facing cottages, s/c & well furnished, are available.
Budget
Panorama Lodge: Situated in a forest clearing 500m inland from the ferry landing, this friendly lodge lacks a beachfront location, but has an attractive garden setting & a forest backdrop. A bar & restaurant is provided. Clean & spacious s/c chalets have solar lighting (hot water supplied on request).
Shoestring and camping
Kalaya Guesthouse: This Christian-oriented facility stands on an open hillside on the Mweena Rd about 1km out of Kalangala (take the left fork just beyond the town). It's notable for the elevated panorama looking east over the archipelago, perfect for the sunrise & full moon sky. Solar power is provided & meals are available, but no alcohol is sold.
Ssese Scorpion Lodge: Situated at Luku, about 10mins' walk from the ferry jetty pier along the Kalangala Rd. Meals are served.
PTA Andronica Lodge: This long-established lodge in its ancient building is owned & presided over by a former  school teacher & provides the only accommodation in Kalangala Town.
 Hornbill Camping Site: This German-run campsite has long been a favourite with budget travelers. It's a terrific spot to pitch a tent beneath shady trees with the sandy beach just meters away. Best, however, to give a wide berth to the wooden dormitory & tiny bandas.
 Kingfisher Camp: This simple & affordable campground lies close to the ferry landing.
Where to eat 
It's fair to say that the Ssese Island resorts are not famed for their cooking.
Nevertheless, all of the resorts provide reasonably priced Ugandan and international meals, albeit from limited menus on which fish, not surprisingly, features prominently.
Fresh produce in local markets is limited and expensive compared with the mainland.
Meals must usually be ordered in advance; even so, service proceeds at a pace appropriate to the tropical island setting.
OTHER ISLANDS 
The second-largest landmass in Ssese is Bukasa Island, which lies on the eastern end of the archipelago and is widely regarded by the few travelers who make it there to be even more attractive than Buggala.
Extensively forested, the island supports a profusion of birds and monkeys and can be explored on foot along with a network of fair roads.
Individual points of interest include an attractive beach at Misenyi Bay, 20 minutes walk from Agnes's Guest House, and a plunge pool ringed by forest and a waterfall, about one hour's walk from the guesthouse.
For monkeys and views, the road to Rwanabatya village has been recommended.
Also infrequently visited by travelers, Bufumira Island is readily accessible by fishing boat from Buggala, and there is a small guesthouse in its largest village Semawundu, though you are advised to bring all food with you.
Far more popular is the small Banda Island, the site of a backpacker resort that has become something of a legend among travelers in the last few years.
Several other small, mostly uninhabited islands can be reached by fishing boat as day trips from Buggala.
Getting around
The only public transport servicing islands other than Buggala are motorised lake-taxis, which link most of the larger inhabited islands daily, except on Sundays.
These lake taxis leave the mainland from Kasenyi, a fishing village that lies close to Entebbe and is connected to Kampala by a regular minibus-taxi service from the old taxi park, and sail to Banda, Bufumira, and Bukasa islands as well as Buggala.
Though plenty of boats will drop you eventually at Banda, direct services leave Kasenyi around 12.00 on Tuesday and Friday
The direct voyage takes about three hours. For Ush500, a bilharzia-infested porter will carry you out to the boat.
The risk attached to using these lake taxis should not be underestimated, particularly during the rainy season, when overloaded boats have a tendency to capsize during stormy weather, killing up to 100 people annually.
Rather than relying on lifejackets being provided (though they increasingly are), you might buy a plastic jerrycan (top screwed on tight!) and secure it to yourself with a piece of rope. Kasenyi is a grotty place, the occupants of which are known for overcharging and being generally annoying.
Since some time will usually elapse between booking your passage and your boat being considered full enough to leave, head for the Kasenyi Takeaway where the formidable Mama Grace will protect you from sunburn and hassle.
It's also possible to reach Banda by taking the Nakiwogo ferry to Lutoboka where you can charter a boat for the 80-minute trip across the strait.
From there, you can complete a loop through the islands by returning to Kasenyi by lake-taxi.
This option, which limits your Kasenyi experience to landing and leaving, is preferable to embarking from there.
Where to stay
Banda Island
Banda Island: The laid-back Banda Island Resort has long been the most popular budget hangout in the Ssese Islands, raved about by most who visit it, equally reviled by a few, depending almost entirely on whether they get on with the decidedly eccentric Kenyan muzungu owner.
Banda is somewhat similar to the Kenyan coast in that it's all too easy to stay 'just one more day' either in your own tent or a basic stone cottage inclusive of all (inevitably fish-oriented) meals (& other fresh local produce).
Banda seems to have shrugged off the attempted tourism revival on Buggala Island enabled by the new, comfortable ferry from Entebbe; indeed, a significant number of budget travelers are moved to forsake Lutoboka in search of a more authentic (a word that covers all possible contingencies) experience on Banda (for travel options)
Agnes's Guesthouse:
Situated a short walk from the ferry pier on Bukasa Island, this basic but friendly & relaxed guesthouse has a veranda overlooking the lake, spectacular at sunset.
Meals are served, but it is a good idea to bring some food with you (wheat flour, margarine, garlic & sugar will be particularly appreciated).
Father Christopher's Guesthouse:30mins' walk from the ferry jetty on Bukasa Island, this newer guesthouse also offers cheap rooms & camping.
There is a kitchen, but you will need to bring food with you. Father Christopher is a good source of advice about walks on the island.