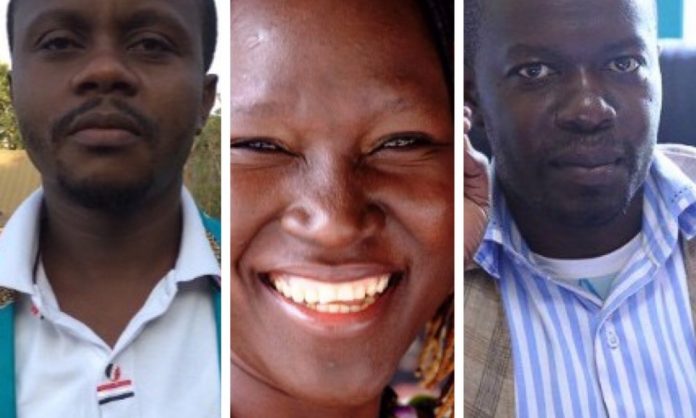 A playwright, an Investigative Journalist, and a former refugee living in Uganda are among the new class of the TED Global Fellows class of 2017.
The three are among the 21 fellows, ten of which are from African countries like Somalia, Nigeria, Botswana, Zimbabwe, Kenya, Egypt, and Liberia that will each, deliver a talk at this year's TED Global gathering this August in Arusha, joining 436 other fellows from 94 countries around the world.
Below, get to know the new group of Fellows who will join us at TEDGlobal 2017, August 27–30, in Arusha, Tanzania.
Judith Adong
Adong is a Theater/Film Creative Director, Writer & Producer, who creates captivating plays and films that provoke and promote dialogue on social issues affecting underprivileged groups. Judith's outspokenness has led her to create work that provokes dialogue and social change on issues ranging from LGBTQ rights to war crimes. She is also the artistic director of Silent Voices Uganda, a not-for-profit performing arts organization.
Yasin Kakande
Kakande is a Ugandan journalist working undercover in the Middle East to uncover the human-rights abuses of migrant workers. His autobiographical novel The Ambitious Struggle, is a fascinating and gripping account of life in the United Arab Emirates, as seen and reported on by a Ugandan journalist resident for over a decade in Dubai. The first such account of its kind, in outlining the duties he was assigned (in print and broadcast media) and the news events that made it (or did not make it) into the print and broadcast media, one gains a keen look at the points of sensitivity in the complex society of the UAE.
Robert Hakiza
Hakiza is of DRC origin. He is the Co-Founder of Young African Refugees for Integral Development (YARID) an NGO based in Kampala that is uniting urban refugees through avenues like sports, English classes, and vocational skills training in order to address social issues like ethnic conflicts, unemployment, public health, and lack of access to education.
Refugees that YARID serves mainly come from the Great Lakes Region: Democratic Republic of Congo, Rwanda, and Burundi. Hakiza and his colleagues are helping these urban refugees learn new skills.