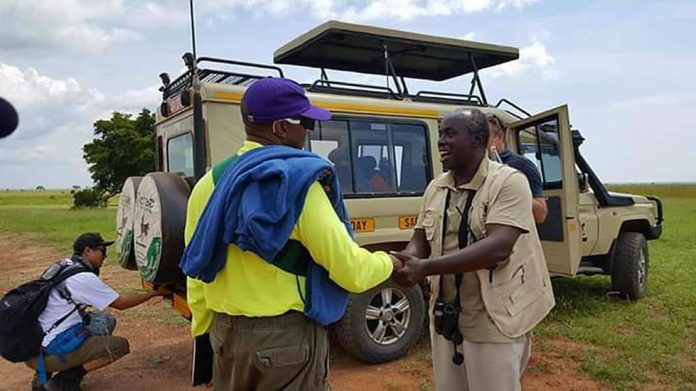 The news of Yeezy star Kanye West and wife Kim Kardashian flying to Uganda for a weekend safari first broke publicly on Friday 12th October, but the celebrated American-based rapper had previously announced plans to travel to Africa to record his new album.
Little did we know that Kanye would be joined by multi-talented and award winning American rapper Sean Michael Leonard Anderson, known professionally as Big Sean.
The rapper who is popular for his 2017 "Dark Sky Paradise Album" is staying at the same luxurious resort in the Murchison Falls National Park, Uganda, the pomp Chobe Safari Lodge; which has been exclusively booked and blocked off by the West family until the 19th of October.
The news of Big Sean in Uganda was confirmed on Saturday 13th October, by US-based tabloid news website TMZ. The TMZ writer confirmed that he is most likely to collaborate on Kanye's upcoming ninth album, Yandhi, which had been scheduled for release on Saturday 6th October 2018, but was delayed because Mr. West's Management Team felt he needed some more time.
Big Sean who is also famous for his relationship with American popstar and actress, Ariana Grande, has been signed to Kanye West's GOOD Music record label since 2007.
Confirming his visit to Africa in an article shared by UK-based BBC News, Kanye said he just needed to come to Africa and grab the soil… and have the mic in the open, so that his fans could hear nature while he put together what he called the biggest album he's ever made.
Kanye West and Kim Kardashian are joined by their oldest daughter, North West, who since Saturday has appeared in a couple of photos flying around on social media with her mom and dad at the luxurious resort.
The couple enjoyed a game drive in Murchison Falls National Park, a wildlife safari area that is home to four of the safari Big Five animals (lions, elephants, buffalos and leopards); giraffes, hippopotamuses and beautiful birds.
Mr and Mrs. West were on Saturday afternoon also airlifted to Pakuba airstrip in Murchison Falls National Park, from where they drove to the banks of River Nile for a boat cruise to the bottom of the Murchison Waterfalls using the "African Queen", a boat owned by Marasa, the proprietors of Chobe Safari Lodge.
Kanye also traveled with quite a huge crew comprising security detail, music producers, videographers; and while in Uganda he will be assisted by Ugandan-based record label, Swangz Avenue.
They want to extend their stay!
TMZ reports that they have since arrival been awestruck by the incredible beauty in Africa, presenter in Uganda. Kim is actually so stoked that she wants to extend their stay.
Series of photos have been shared showing Kim Kardashian enjoying the views of the Nile River from the resort's terrace.
Kanye who had recently temporarily suspended both his Instagram and Twitter accounts for the second time, has while in Uganda revived his Twitter handle (@Kanyewest) with the map of Africa as his profile photo. The artist has since shared a series of LIVE-recorded videos from the resort located along the Nile River.
In one of the videos, the songwriter who seemed impatient about waiting for the morning to show off the beautiful resort is heard saying, as he walks around the resort "Yo… I know it's night time, but…" Watch the video below
In another video titled "mind control" the rapper while getting back to the negative energy thrown at him on Social Media confirms that he is in Africa recording music.
Another video of Kanye West dancing to an African song was also posted by Nigerian-based music manager Abisagbola Oluseun John, popularly called Bankuli. You can watch it here.
How they booked their trip to Uganda? 
Trysted sources reveal that the initial contact was made by Kanye's team who reached out to one of the tour companies in Uganda (name witheld).
It is however not clear why they resorted to eventually go their own way and book the different services directly with the different service providers; but the same sources reveal that the team is still following the same itinerary which they had received from the tour company.
Being the celebrities that they are, there was absolutely no bargaining with the reservations team at Chobe Safari Lodge for a better rate despite the fact that they were exclusively booking the entire resort; and this left the lodge management and staff dumbfounded.
Other sources reveal that the itinerary initially planned to have the couple and their team stay at the elegant Bakers Safari Lodge, also in Murchison Falls National Park and the beautiful Kyambura Gorge Lodge in Queen Elizabeth National Park, but these were turned down because they didn't have enough rooms to accommodate Kanye's entire crew.
Kanye Omari West, who recently rebranded to Ye, contracted the services of locally based aviation company, Kampala Executive Aviation (KEA) to handle their domestic flights and Heritage Holiday Safaris to handle the ground transfers. The same sources confirm that Kanye's private jet is parked in the special flights and charters section at Entebbe International Airport.
About Uganda
Located in eastern Africa, Uganda is a land-linked country that is dubbed the pearl of Africa because of its mesmeric beauty.
The country is an uncompromising expanse of lush green forests, pristine savanna grasslands dotted with countless species of bird, plant and animal life; many water bodies, high mountains, and the most friendly people on this planet.
Uganda is a compacted paradise stretching from the source of the River Nile to the edge of the western arm of the Great Rift Valley, to the world's largest volcanic base, close to the origins of man, and she features permanent snow just a few meters from the equator.
Uganda is a place undiscovered but one offering an opportunity to taste modernity juxtaposed with rural life, home to so many differently diverse peoples and cultures; she might just be a summary of the entire African continent, let alone our own planet, Earth.