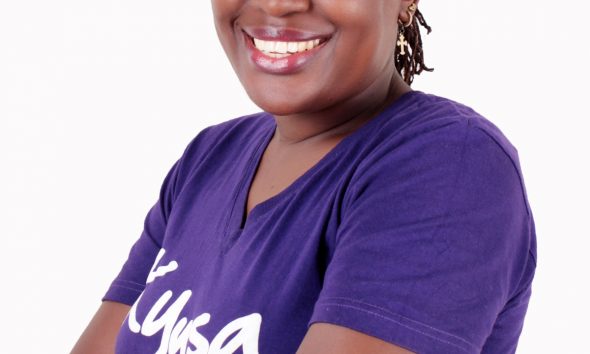 Meet Noeline Kirabo, a change agent and the founder of Kyusa, a non-profit organization that seeks to empower out of school youth to become employable by developing passion driven careers through starting their own business or leveraging available jobs.
Kyusa targets vulnerable youth in urban slum communities between 15 to 25 years of age to help them discover and harness their passions and make them employable in the fast growing entrepreneurial environment of Uganda. Kyusa seeks to eradicate the issue of youth unemployment by accelerating youth employability.
"Kyusa has been in existence since 2014 and has steadily grown from its pioneer class of 12 youth just like the disciples to a growing movement of over 600 program graduates at the moment whose lives have been greatly impacted and transformed by engagement with Kyusa.We started in kampala and we have grown our reach to as far Kisoro, kabale, Ibanda, Luwero, Mpigi and will soon be heading to the northern region " Noeline says.
Kyusa offers research-based curriculums that develop key professional skills, leadership skill, computer skills, and financial literacy while also improving their self-awareness, self-confidence and self-management. The Kyusa training is an experiential learning program that seeks to equip youth to become job creators, successful entrepreneurs and peer leaders in their communities as well as career fields.Kyusa program activities include business startup training for potential entrepreneurs, business acceleration for small and micro entrepreneurs, employability/ job readiness training for youth seeking to enter formal employment.
Unemployment has been one of the most highlighted challenges for young people in Uganda, a great percentage being uneducated, school dropouts or 'unemployable' graduates who lack the skills that many employers capitalize on while hiring.
Support programs are also offered to participants including mentor matching with business icons, exposure filled visits to gather hands-on skill, support to attend vocational training, apprenticeship training, apprenticeship placements, business branding and incubation.
"This rich syllabus has seen majority of the Kyusa alumni successfully running small and medium enterprises!" Noeline explains.
Kyusa graduates have started catering businesses, an Events Management Company, social enterprises, a football academy, Poultry farms, commercial farming, beauty shops, hair dressing, tailoring stalls, carpentry workshops, shoe making, craft making, crocheting businesses and electronic repair shops among other ventures. Others have secured formal employment as sales clerks, front desk personnel, teaching assistants, cashiers, administrators, data entrants and others have been informally employed on contract basis. You can follow Kyusa: https://www.facebook.com/Kyusa
'Many of the impact stories are shared on the Facebook page where you can get to interact with more of the alumni businesses and also to support them so like and follow us.' says Noeline.
It all started as a dream when Noeline herself was working a full time, well-paying job. She desired to do something that would leave a legacy. Having a background of not being in tertiary education herself, she wanted to offer the same hope to youth who withdrawn themselves from endless possibilities because they considered themselves unemployable because they had dropped out of school.
'My passion derives from my experience as a former school dropout. I educated myself using online courses. When I got my first job, there was no turning back. At the height of my career, I was challenged to think about the legacy I wanted to build. The more I thought about it, the more I realized that my passion was in people developing more so empowering youth to live purposeful and fruitful lives.' Noeline said.
Noeline's desire to learn and grow has landed her many opportunities to sharpen her idea and increase her influence. These include: 2018 Acumen East Africa Fellow | 2018 MIT D Lab Eco system Builders Fellow | 2017 YALI Regional Leadership Center Fellow | 2016 Community Solutions Program fellow | 2015 Cherry Blaire Foundation Mentee | 2014 Hive San Francisco fellow | 2014 Dewey Winburne Community Service Award Honoree | 2013 Kanthari fellow.
The journey has not been all rose and no thorn for Kyusa. Noeline started out with very little funding from friends and family. She had to learn to get the job done with the few available resources which is a valuable lesson up to date. But like they say, 'Where there is a will, there's a way!' Overtime many people have bought into the vision and partnered with Kyusa to get to this point.
Noeline looks up to her mother who made her believe she could be anything she set her heart to. She is inspired by Pastor Moses Mukisa of Worship Harvest ministries who has coached her a lot about vision, people development, leadership and resourcing for the vision.
'I invite you to be part of this mission to restore hope and dignity to vulnerable youth through livelihood. You can give financially to sponsor a youth to attend the training, offer to mentor a youth, offer job and internship placements as well offer your expertise to facilitate trainings or offer motivational talks. You can reach us at: kyusa.uganda@gmail.com or 0777200109' says Noeline
Kyusa aspires to empower 100,000 youth to become job creators by starting growing businesses in the next ten years as a means to accelerating youth employability first in Uganda then East Africa and Africa.Youth are the leaders of today and tomorrow hence investing in them is the sure way to sustainable development.