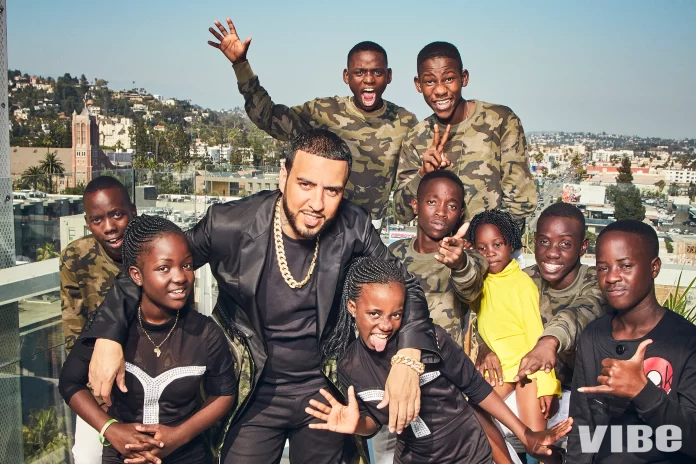 Karim Karbouch, an American recording artist that goes by the alias French Montana came down to Uganda in March to shoot the video for his new hit single "unforgettable", which has further wowed the world on the raw talent among Ugandan youth. The visuals of this video were released early this month and they featured Rae Sremmurd's, Swae Lee. You could only be wowed by the priceless smiles on the Ugandan kids as they joyously contorted their bodies to the melodies of the stunning record.
The cover art
Earlier in April, Montana explained the importance of the single's cover art on his Instagram page.
"The picture of my mother and father at their wedding in Africa is my favorite picture," he began. "It's unforgettable for so many reasons, since it was the same year I was born and the same year my father was incarcerated for unfortunate circumstances. He named me from jail. After he was released, we were granted US visas and in 1996 I went on my first plane to go to America."
Then, Montana dove into his transition to the United States and the hardships he encountered during his teenage years. "I didn't know any English," he revealed. "It was tough because I thought we were moving into the high rises of NYC, but we ended up in the back streets of the South Bronx lol. It was still better than back home in Morocco, but my father had a hard time and wanted to move back. My mother knew we couldn't because there weren't any opportunities there and she sacrificed a lot for us to survive in the states. We were on welfare and she worked overtime to keep us fed, clothed, and a roof over our heads. I promised my mother that I would hustle and make my accomplishments unforgettable once I found my opportunity. I want other people who might be struggling to know that the sky is not the limit… You can do unforgettable things, so I present to you my single 'Unforgettable.' Feat @swaelee."
The video concept
The whole idea behind French Montana's awesome Ugandan spirit-filled video rose from his adoration for Uganda's Triplet Ghetto Kids. Showcasing their dancing skills, the Ugandan kids are found joyously contorting their bodies to the melodies of the record.
Their Ugandan street dancing art hypnotized the American musical talent in him to make his personal wish come true. Originally born in Morocco, Montana felt right at home in Uganda while shooting "Unforgettable".
Shooting the video in Uganda
Both Montana and Swae Lee flew down to Uganda, Africa in March to capture the visuals, and now we have finally received the final product of the hard work done at the source of the Nile also known as the pearl of Africa. Throughout the video, local dancers bust crazy moves while French and Swae soak in the vibes, strutting their stuff here and there.
Watch Unforgettable here: