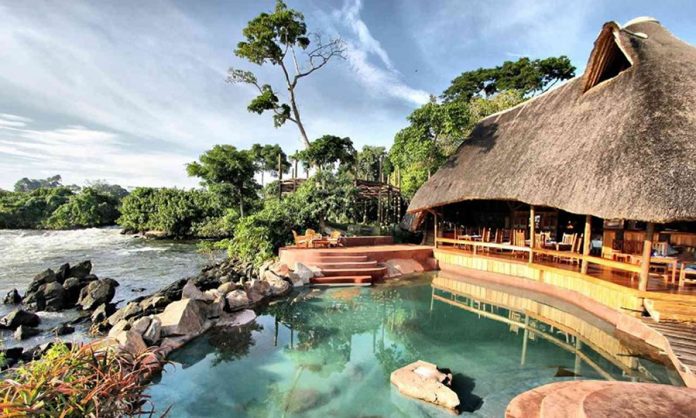 No wonder it was recently voted one of best destinations to be visited in the world by Rough Guide, Uganda has a lot to offer for a perfect honeymoon trips from exotic islands, beaches, wildlife, primates and budget friendly options. Are you trying to figure out where to go on your honeymoon? Uganda has covered you with a wide list of its amazing tourist attractions. Here are some of the places you should include in your honeymoon safari in Uganda, the Pearl of Africa;
Beautiful Bunyonyi Island
Lake Bunyonyi Island continues to hold a banner of being the exotic destination for leisurely holidays in Africa. This island is one of the most scenic places in Africa and its great weather break the record of getting a new name as the "Switzerland of Africa". The Island offers variety of leisure activities including swimming, sun bathing, boat ride, hiking, nature walks, fishing, birding without forgetting the exclusive eye catching views of the twenty nine islands. There are lots of places where you can stay during your holiday! From beautiful budget lodges to luxurious safari style lodges, you are assured of a great stay during your holiday.
Bwindi Impenetrable National Park

The Bwindi Impenetrable National Park is one of the best places to see the endangered mountain gorillas in Africa. Are you looking for natural scenic beauty in the middle of a wild jungle forest? Look no further! Start planning your trip to Bwindi Impenetrable National Park, a perfect location for tourists looking to gorilla trekking safaris in Africa. Couples looking for exclusive gorilla safari experience in Africa now have Uganda a home to half of the living population of the endangered mountain gorillas. Unveil the jungle rain forest natural beauty is heading out to see mountain gorillas in their forested home. The happy jungle life experience in Africa ever starts here and we highly recommend it to all visitors to Africa.
Kidepo Valley National Park

With an ever–expanding list of rare wildlife species and the unique cultural experience of the Karamojong people, Kidepo valley is a great place for Honeymoon safaris especially if you both love wildlife and culture. While here you can an unwind at the lodge balcony as you view more wildlife on the water hole on a hot day. The Kidepo Valley endless plain extends to the famous Masai Mara game reserve in Kenya another fantastic wildlife safari park in Africa. Be ready to carry home great moments of the Big 5 and other park wildlife.
Ssese Island
The Ssese Island is an archipelago of about 43 islands. Perhaps the travelers' favorite vacation destination in Uganda with comfortable lake side hotels and lodges and a right Place for anyone seeking for complete leisure and relaxation. Ssese Island hotels and Resorts will reveal the right meaning of honeymoon vacations with the many special couple arrangements as well as the amazing lake island tour activities.
Queen Elizabeth National Park
The tree climbing lions of Ishasha, the highest population of hippos, crocodiles at the Kazinga channel, wildlife and the chimpanzee species in Kyambura gorge and Kalinzu forest reserve a great chimpanzee safari spot put the park on map as a premier safari destination in the world. Queen Elizabeth is an exclusive safari destination in Uganda.