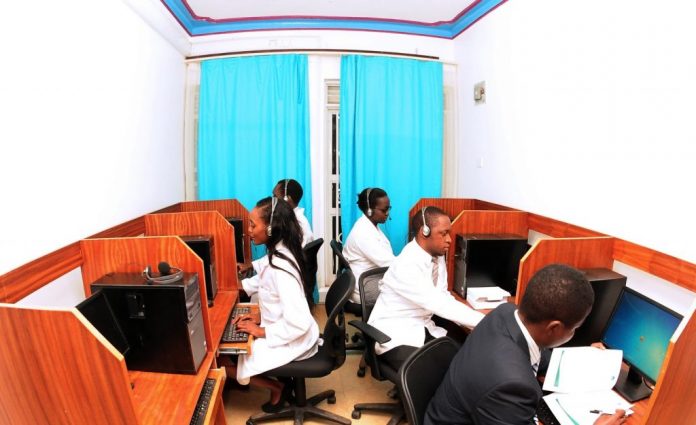 A problem further beyond Uganda's low doctor-to-patient ratio, is the distribution of those doctors. Most, particularly specialists, congregate in Kampala while some decide to go seek greener pastures abroad in the hope for making a breakthrough in their medical career growth.
In Uganda, the Doctor to Patient ratio stands at 1 Doctor for every 24,725 people in 2013 and 1 nurse for every 11,000 people. The recommended ratio by the Ministry of Health is at 0.117  physicians per 1,000 people.
To add to this are Uganda's rising costs of healthcare and the limited engagement of patients on their health outside the confines of the hospital.
One doctor and his team are however trying to change this status quo.
Dr. Davis Musinguzi, having qualified as a medical doctor from Makerere University, sought to address the issue of Uganda's appalling the doctor to patient ratio.
"We were seeking to address the challenges with accessibility, affordability and quality of health care service delivery in Uganda not forgetting the poor accessibility to health professionals particularly in rural areas to access basic medical consultation." says Dr. Davis Musinguzi.
He founded The Medical Concierge Group (TMCG), and immediately started an entrepreneurial journey to provide much-needed solutions to the challenges at hand.
The Medical Concierge Group is an innovative healthcare service delivery and communication channel. It leverages a freemium model, a 24/7 call centre reachable at routine tariffs, a Doctors-on-Call service through voice calls, SMS, social media and WhatsApp to improve accessibility to affordable and quality health care in Uganda, Kenya and Nigeria.
"We are trying to address the rising cost of private health care considering up to 80% of health care expenditure is out-of-pocket in the region. More so, many suburban health care primary healthcare facilities are of low quality and run by low skill personnel." Dr. Davis says
TMCG is also trying to address the low patient engagement and information gaps about their ailments, prescription medicines, disease prevention and wellness. The issue of social stigma attached to cases has caused people not to access medical services because of insufficient privacy.
Why TMCG decided to use the internet/technology is simple. According to the United Nations Department of Economic and Social Affairs, there are approximately 13,023,114 Internet users in Uganda translating into 31.3% of the population as of March 2017. Using the internet makes TMCG a pioneer in the delivery of mobile health services in Uganda.
The group has dedicated WhatsApp, Facebook, and Twitter accounts. At the everyday phone tariffs, mobile phone users by voice/SMS/email/IM/social media from anywhere 24/7 can access a Doctor's consultation. The users only have to listen to or read a health-related advert/infomercial embedded in the call/text/Email/IM/Social Media.
TMCG as of today, records an average of 50,000 online interactions, which is proof of how valued the platform has become to its users.
Through partnerships, TMCG is able to meet the set up and running costs as well as scale geographically to reach beneficiaries both in Uganda and beyond.
The group is now looking to complement the tele-consultation with its Doctors with cloud-based remote diagnostic monitoring, mobile money payments for recommended health services and post-care follow-up. This will especially be valuable to chronic patients such as hypertensives and diabetics.
The group also looks further than Uganda. With other African countries like Kenya and Nigeria facing similar health care challenges, TMCG has already scaled up the innovative and impactful services in these markets.
The vision is to cost-effectively impact the health outcomes of Africans through innovative and patient-centered digital health services.