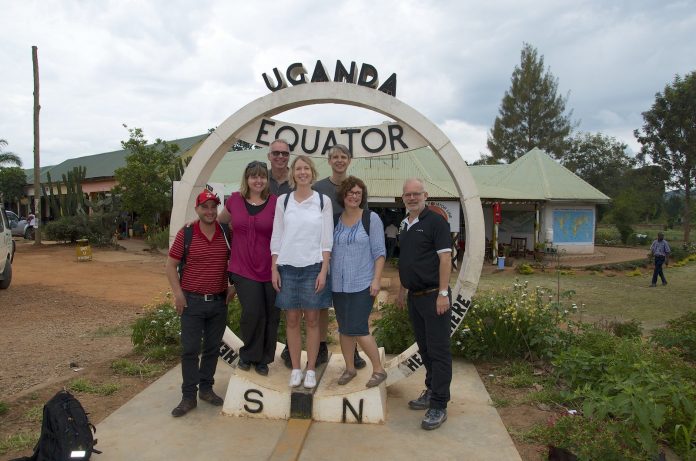 Uganda is one of the few countries where the equator line crosses. Uganda has 3 marked equator cross destinations the famous one being at  Kayabwe in  Mpigi district on Masaka- Kampala highway, the second located at Kikorongo In Kasese district, and the third one crossing within lake Victoria.
What is the equator?
The Equator is an imaginary line that cuts the earth into Northern Hemisphere and Southern Hemisphere. While the equator crosses through Uganda the most iconic spot of equator crossing is at Kayabwe just 72 kilometers from Kampala city.
At Kayabwe, the Equator crosses Kampala –Masaka highway making it an easy and the best stopover for tourists heading western and southern Uganda national parks of Queen Elizabeth National Park, Bwindi Impenetrable National Parks, and Mgahinga National Park. Uganda has many places to take pictures but pictures taken at equator Kayabwe are the best and favorite and will be memorable in your life.
Being crossed by equator line explains why Uganda has warm equatorial climate both at night and during the , tropical climate , lake Victoria the Africa's largest lake is crossed by equator having one part in northern hemisphere and one part in southern hemisphere .
Another famous equator land mark can be spotted at Kikorongo in Kasese district, while on your safari in Queen Elizabeth national park you can make stopover at Kikorongo equator land mark, have fun, take pictures, and interact with local people.
1Activities at equator / what to do while at Equator line marks at Kayabwe
Equator water Experiments
It's at equator where water flows to clock wise and encounter anti clockwise both northern and southern hemisphere. The water drainage at equator line while demonstrating carioles effect will show you water flowing to different hemispheres both north and southern.
This explains why the objects near or nearer to equator deflects further faster than those nearest to north and South Pole. The Coriolis Effect also causes weather systems like hurricanes   to move in different directions at different hemispheres.
One of the amazing demonstrations is the experiment of the an egg where you will see many tourists , visitors balancing the egg on the nail and nowhere else where it can be done other than at the equator line.
Lighter weighing
Is one lighter while at equator?  Many visitors, tourists ask this question and the answer is yes. You will find yourself less by 3 % at equator line this is because weight is a force that gravity acts on a mass.
Along the equator any one's weight will be less by 0.5% thus gravity is less 0.5 % less to equator this is inclined to the earth not being a perfect sphere .
You will be 10 km away from the actual center of the earth while standing at the equator unlike standing at poles. Gravity is therefore slightly less at the equator because it falls off with a distance.
Souvenir Shops and Restaurants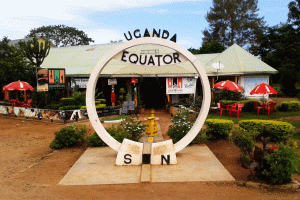 There is a variety of restaurant and craft shops at Kayabwe equator  all products at this shops are hand made by local people you can buy t-shirt print  I crossed the Uganda equator
Its beautiful place where you can find all Ugandan made crafts, with ATM, forex bureau no need to worry
Around Kayabwe equator there are beautiful restaurants   where you will have a nice and delicious lunch, famous Rolex among others
Getting there
Kayabwe equator land mark is located along Kampala –Masaka high in Mpigi district just 72 km from Kampala   1 hour drive and can be accessed by any time .many tourists heading to western or southern Uganda national park safari to Lake Mburo National Park or Bwindi Impenetrable National Park prefer to make a stopover while going or coming back or both.
A lot of activities are done here, breakfast and lunch, taking photographs, and experimenting some scientific demonstrations.