joe Semanda is a 24-year-old award-winning chef currently making culinary magic at the Kampala Serena Hotel. He's the first Ugandan to participate in the international young chef Olympiad, an annual competition, twice, and bringing home the prestigious mentor's medal for the 3rd International Young Chef Olympiad 2017 for mentoring Ugandan contestant Sandra Agasha.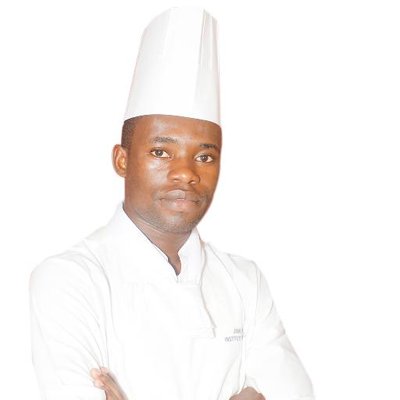 He picked his love for cooking in 2010 after completing senior four. "I always wanted to be a surgeon but after my senior four, I failed to get school fees to push me to A 'level. When I was asked what technical course I could do, I chose to do catering and I majored in food production" and thus his journey as a chef begun.
He was inspired by an uncle, Ben Musasizi who worked at a top Hotel in Uganda before moving to the United Arab Emirates as a Chef De Partie. Cooking has always been a part of his life. "I always had my holidays in the village with all my cousins. We were many and my grandmother used to make a cooking time table for all of us. We wanted to impress so we cooked our hearts out".
A passionate young man, Semanda delights in cooking and expanding his horizons in the field. "My dream was always to work at the Kampala Serena hotel and when I made it there, it opened doors to a world that I knew less about. I learnt more about food and how it moves souls. I traveled to India and met with great chefs from over 67 countries and we all spoke one language which is "food""
Semanda is humble, intelligent and hungry for success. He has always aspired to be the best chef in Uganda. "Thanks to Jimmy Sekasi Business Institute, I was chosen to represent the school and Uganda at large in the 2nd International young chef Olympiad 2016 as student contestant and went back for the 3rd International Young Chef Olympiad 2017 as a mentor".
He is currently preparing for the African young chef competitions that will be held in May 2018 in Nigeria, thereafter upgrade his diploma to a culinary degree in an international institution for more exposure.
A visionary, he seeks to promote the food industry and boost the culinary profession, "I am trying to reach out to the ministry of tourism to work with me and we promote this fast growing profession by organizing internal cooking competitions among cooking schools, I personally have missed out on a number of opportunities due to lack of funds but I believe with a helping hand, we will raise our flag way high using our talents."
Semanda has not always been the young award winning chef at a top Hotel in Uganda. "Making it to where I am today has been a battle after all the hardships of raising school fees… At the moment, the greatest challenge I face is passing up opportunities for growth and exposure due to the lack of funding. I urge the tourism and hotel sector to be open to people like me who want to make a difference in this industry for Uganda and come out to promote and support us".
He implores all young people not to underestimate any job but to use it as stepping stone to their dreams. "Do not allow pride and social status influence your employment decisions" he says.