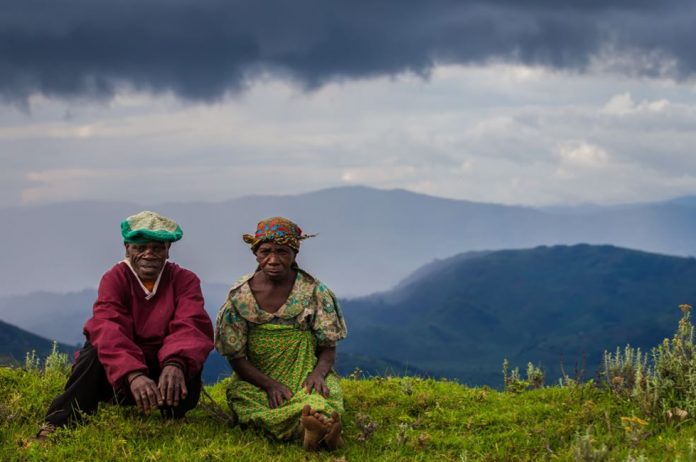 Bwindi Impenetrable National Park is a unique ecosystem of Africa – Uganda with a vast number of wildlife species. This natural rain forest is a home to mountain gorillas; hosting half of the total population of the world's surviving mountain gorillas, leaving the remaining half to be shared between Rwanda , Democratic Republic of Congo and even Uganda's Mgahinga National Park. The forest is found in the southwestern part of Uganda and about 500 kilometers away from Kampala- the capital city of Uganda.
In the recent records, there about 900 surviving mountain gorillas in the world today with 400 of these endangered creatures situated in Uganda's Bwindi Impenetrable Forest while the rest are shared between Uganda's Mgahinga, Rwanda's Volcanoes National Park and Congo's Virunga National Park. Bwindi Impenetrable Natural Rain Forest is a home to 12 gorilla family groups with eleven family groups available for the tourism activities and the other restricted for study purposes and scientific research.
The mountain gorillas in Bwindi impenetrable are distributed in regions ;such as the Buhoma sector with Habinyanja gorilla family, Mubare gorilla family and Rushegura gorilla family, the Ruhija sector with Bitukura gorilla family, Kyaguriro gorilla family and Oruzogo gorilla family and the Rusahaga sector with Busingye gorilla family, Bweza gorilla family, Kahungye gorilla family, Mishaya gorilla family and Nshongi gorilla family.An d these groups can be tracked and visited by any visitors to the park. However, it should not be forgotten that onlyn8 visitors are allowed per family group in a day. This helps to reduce the chances of contaminating the animals by humans since they are very vulnerable and also helps to avoid disturbing the animals in their natural habitat. Remember, for a very successful trip, one must make proper planning in addition to early bookings.
After acquiring the mountain gorilla trekking permit, visitors are then allocated their particular gorilla family groups and its here that one decides on the accommodation to use since its best convenient booking a place with in the area / region/ sector of your gorilla family group.On the fateful day, early in the morning g, visitors set off to the rail starting points , in their groups, they are briefed followed by hitting the African Jungle for the gorilla trekking adventure. It's an interesting activity through the woods that it leaves you anticipating on what you are likely to face while in an encounter. But it's hard to know what you will experience when in an encounter with these creatures because its an amazing feeling viewing mountain gorillas in their natural habitat; playing and teasing each other, picking leaves from near branches and eating as they stare at you directly all time.
Seeing them is an amazing and humbling experience that one feels especially while looking in the dark brown eyes or seeing the young mountain gorillas being pampered by their mothers. They do it just like humans perhaps because mountain gorillas have 95% of their DNA similar to humans meaning that most of their characteristics are just like humans. Being with mountain gorillas lasts for one hour and once it elapses, tourists are guided back to from the forest and then given certificates of participation.
After a gorilla safari in Bwindi, another adventure that you shouldn't miss about Uganda is the Batwa Experience. The Batwa speaking people were the first people to settle in Bwindi forest reserve. They lived in the forest for a good number of years that they reached a time when they regarded the forest their permanent home until they were evicted by the government due to the continued need to preserve nature and conserve many wild species. In the forest, the Batwa were well known hunters who largely survived on the forest, following the eviction, they faced a challenge of adopting a new way of living as they had to engage in farming practices in order to get food. Today, they settled in the nearing areas of Bwindi Impenetrable forest and always available to share the interesting stories of their life styles to the tourists, who may be interested; talking about their unique culture, guide tourists on the Batwa trail and also demonstrate their hunter gatherer skills, such an interesting experience.
An interaction with the Batwa speaking people is yet another very exciting experience as this visit will bring close to the Batwa social and cultural lifestyles. For example it leads tourists to the Garama caves "a very sacred place for the Batwa" here, you are treated to the Batwa Traditional practices as they sing songs and dance for the tourists. They also demonstrate their major hunting weapons they used that include bows, arrows and traps. In addition to this, expect the stories of the Batwa ancient life told by the Batwa elders and these provide a great understanding on the real Batwa people which leaves so many visitors amazed at how these people lived when in the woods.