Boat cruising is one of the tour activities that are enjoyed by tourists on a tour in Uganda. Uganda has a collection of wonders that interesting to tourists making it the best safari destination in east Africa and Africa at large. This landlocked country is a haven of tour activities sometimes referred to as a pearl of Africa.
The boat cruise is the most enjoyable activity while on a tour in Uganda. The boat cruise is like spending more than two hours in a water body like a ship or a vessel while enjoying and touring the areas and vegetation around the lake. The boat cruise is one of the memorable activity experiences a tourist shouldn't dare to miss while on safari in Uganda.
Uganda is endowed with a lot of water bodies where boat cruises can take place. Boat cruise spots in Uganda include Lake Victoria very close to Kampala city and Entebbe international airport.
Lake Victoria is the most prominent boat cruise spot fact that it's near Kampala and is Uganda's largest lake as well as Africa's largest tropical lake and it is the world's second-largest lake. Lake Victoria is shared by Uganda, Kenya, and Tanzania. Tanzania and Uganda taking the largest share
Boat cruise safari in Uganda will give the tourist a memorable insight into the beautiful scenic wildlife Uganda. Animals to be spotted while a boat cruise safari includes buffaloes, elephants, zebras, impalas, warthogs, aquatic animals like crocodiles, hippos among others
How much is a boat cruise in Uganda
Boat cruises can be customized alone or done together with other tour activities in Uganda like gorilla trekking, chimpanzee trekking, wildlife viewing. Cultural tours, mountain hiking or it can be done alone on all water bodies in the country.
The cost of a boat cruise in Uganda national parks of Murchison falls national park ., Queen Elizabeth National Park , lake Mburo National Park , Uganda wildlife authority charges 30 dollars person  and private firms charges around 200 dollars however these fees differ and are not uniform. For more information about boat cruise safaris in Uganda and Kampala contact Africa tours adventure.
Uganda's boat cruise gears
Tourists are advised to put on life jackets to prevent them from drowning in case accidents happens,
It's recommendable that the travelers should at least possess little swimming skills.
The boat cruisers should not lean on the sides of the boat, to help the boat balance both sides,
 Smoking is not allowed on boat, among others regulations given to you at briefing.
Best spots for boat cruising in Uganda.
Lake Victoria and source of rive Nile
Boat cruise on Lake Victoria and the source of rive Nile are the most popular since they are located near Kampala and are known for local people. Because local people flock these place son weekends and have fun while sailing on waters of Lake Victoria.
Lake Victoria is located in Kampala and the source of river Nile is located in jinja what to expect while on a bout cruise safari on Lake Victoria. Viewing various bird species like the pelican, marabou stock, shoe bill, wagtails, swallow grey crowned crane, viewing the source of river Nile the longest river in the world among other tings.
Lake Mburo national park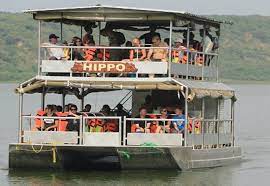 Boat cruise in Lake Mburo national park .Lake Mburo national park is the smallest national park in Uganda covering only 260square kilo meter. Initially gazette as a hunting grounds .it was later turned into the park, got its name from the water body with in its premises.
Boat cruise has made this park popular than any other activity , however the park has other activities like wildlife viewing ,horseback riding, boat cruise is always the memorable amazing activity.
A journey on waters of Lake Mburo  will travelers a chance to   see aquatic animals like crocodiles , hippos and different bird species flying clearly in the sky's some of the bird species to be spotted include egrets , heron , pelicans , dove grey crowned crane , spur fowl  grey parrot, wagtails among others. Animals like zebras, buffaloes, impalas, Uganda kobs heart beast, elands, oribi, bush backs   that gather at the lake Mburo for bathing, taking water, are also spotted.
Kazinga channel in Queen Elizabeth national park
The Kazinga channel is one of the greatest tourist spots while on wildlife safari in Queen Elizabeth National Park. The Kazinga channel is 32 km big trench that connects small Lake George to big Lake Edward
Boat cruise at Kazinga channel starts from Mwenya safari lodge and it's done in shifts from 9am morning to 5 pm in the evening. There is boat owned by Uganda wild life authority and there is one owned by Mwenya safari lodge
The Kazinga channel has the largest concentration of hippos and crocodiles. The boat cruise on Kazinga channel in Queen Elizabeth National Park give travels a chance to explore the beautiful scenery and wildlife of Uganda. Animals gather at Kazinga channel for bathing, drinking water. Animals to be spotted include buffaloes, elephants, impalas, Uganda kobs. Giraffes and many others.
Kazinga channel is among the best bird spotting areas where bird species like pelicans , papyrus gonolek , shoebill, ,ibis, heron giant king fisher can be spotted.
Murchison falls national
Boat cruising in Murchison falls national park has always proved that it's one of amazing and entertaining activity in the park
Most tourist come to Murchison falls to the world' s most powerful water falls  but ended up enjoying the cruise on Victoria Nile.
The bottom of the falls boat cruise is the best and the most admired. The launch starts from the Paara dock and sails towards the falls.
The cruise is conducted amidst the schools of hippos and crocodiles floating on top water, pack of crocodiles, and it's fascinating to see these beautiful eco system.
Boat cruising in Murchison falls national park will give a chance to tourists to view  animals that Murchison falls a home , also a chance to hike to the top of the falls. Animals to be spotted include herds of elephants, herds of buffaloes, or ibis, tower of giraffes, schools of hippos all at the banks of the river waiting to take water and bath.
When is the best time to do boat cruise in Uganda?
Boat cruise can be done any time throughout in Uganda from time to time. However the recommendable time is during the dry season from June to September and from December to early march.